At only seventeen years old, Anabella Paige is easily securing herself a well-earned seat within the music industry. Armed with poetic lyrics and ethereal vocals, her artistry is wise beyond her years – and she's only just beginning. 
Her debut single, "Bandage," earned her impressive placements on big Spotify playlists such as Spotify Fresh Finds and Fresh Finds Pop. She recently released her sophomore single, "This I Miss," which boasts a heavenly production filled with delicate strings and soul-stirring piano licks. 
The New Nine got to speak with Anabella about her blossoming music career, the creative process behind "This I Miss," and what else we can expect from her in the future. 
What has your musical journey been like thus far?
Anabella Paige: So, I moved around a bunch. Right now, I'm living in New York City, and I've lived there for about two years. And I really started pursuing music seriously about three years ago. Before, I did choir when I was younger, but I was never really passionate about it. I found that I really loved it when I started writing and working on contemporary music. It was kind of a very happy accident that I ended up pursuing music professionally, but I wouldn't wanna be anywhere else.
What prompted you to first start writing original music?
Anabella Paige: For me, it was always…ever since I was really young, I've been writing songs. Like my mom has a copy of the first song that I wrote. For some reason, it was this really heart-wrenching love song, and I don't know where it came from. I was literally, like, five years old, probably. It just always happened really naturally. I mean, of course, Taylor Swift's writing, and Amy Winehouse, and Norah Jones. 
What's your process like when you write? Do you look for inspiration within yourself or outside yourself?
Anabella Paige: When I was younger, it was a lot of making up stories because, obviously, I didn't have that much [experience]. I still don't have that much experience now. I'm only seventeen. But now, it's more so drawing from personal experience and things that I see other people go through. But I think a lot of it is the creative exploration of a topic. And you have to dramatize it a little bit. 
My creative process is seeing something, whether it's a moment or an emotion, that I think is so specific in that when you hear it being depicted in a creative way, it really resonates with you. 
Your debut single, "Bandage," got placements on big Spotify playlists, which is amazing. So, I wanted to ask what that was like. Did you go to bed and wake up and all of a sudden have all these streams on Spotify? 
Anabella Paige: I remember I was in school. I got a call, and I was told that ["Bandage"] got on one of these playlists. I was in total shock. I was not expecting it whatsoever. It was a really fulfilling moment to realize that something I worked really hard on and didn't really expect to get that much traction had achieved that in some way. That's definitely a moment that I'm always gonna remember. 
What's it like releasing music in school? Are your classmates supportive of your songwriting?
Anabella Paige: Totally. I go to a school where it's basically built for people who are pursuing [the arts]. So there are a lot of dancers and people on Broadway. It's a super creative space, and everyone's so supportive of one another.
So, "This I Miss" just came out. How have you been since releasing it? And what was the release day like?
Anabella Paige: This song is such an accurate representation of the music that I want to be putting out and how I want to represent myself. So, I feel a lot more confident in the release. But I'm still so new to this all. It's kind of that in between, like, I'm really nervous, but I always wanna know what's going on. It's kind of realizing that there's only so much you can do. And once it's out, it's out, and you just have to sit back and enjoy it for what it is. 
Lyrically, what's the inspiration behind the track?
Anabella Paige: It was the first song where I didn't have the lyrics beforehand. I really wanted to play off those two words, "heavenly" and "spirit." Those would probably not be words I would use in my own writing, so this was kind of a challenge for me in a good way.
When I was writing, I thought about what is something that I consider heavenly without being way too cringey or philosophical. It's really about appreciating a moment in time that you have, whether it's a friendship or a relationship, kind of appreciating it for what it was, and seeing the end more as a finale. 
You opened for ROSIE on her recent US tour. Was this your first time touring?
Anabella Paige: First time touring. And I'd only performed once live before.
Wow, so what was that experience like for you?
Anabella Paige: It was so cool. I remember it was in the middle of finals week. When I left school, I was like, "Bye!". It was the best introduction to [touring professionally] that I could ask for. Everyone was so nice, so supportive, so genuine. And it was great. After performing once, I was like, this is something I wanna do. And I got to practice over and over again. I learned that I love performing in front of people. 
Did you have any memorable interactions with the audience?
Anabella Paige: It was really cool actually meeting people personally. Rosie makes a real effort to do that, and that's so cool, so I kind of followed in her footsteps. That was personally my favorite part of every show - meeting everyone and talking to everyone and seeing how much people genuinely care and have interest. That was really meaningful.
Is there anything you would like your audience to know about you? It could be related to your music or just a fun fact about yourself.
Anabella Paige: Music-wise, I would love people to know that I'm still very much figuring out my sound and my brand. And there's a lot more experimentation that I wanna do. Personally, I think I love fashion. That's my other passion. I'm obsessed with that, so if I can incorporate that into my career later on. 
Is there anything else we can expect from you in the near future?
Anabella Paige: I'm just continuing to [write] and figuring out my sound. I'd like to think I'm working on some really fun stuff, but there are no specific plans in the future yet. I'm just really enjoying getting all the feedback from these two releases and just seeing what I can do with that. 
If you haven't already, check out Anabella Paige on Spotify. Be sure to follow her on Instagram to stay up-to-date on any and all exciting updates.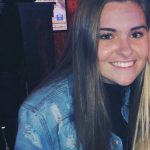 Grace Kuraska
For as long as I can remember growing up, music was constantly blasted throughout the house. My parents' love of music introduced me to pop and rock idols and icons of the past, setting me up for a life of fangirling over a confusing range of artists, from Fleetwood Mac to One Direction (still mourning the loss of the latter). I could spend hours at a time binge listening to albums, and researching new artists. Follow me on insta @gracekuraska.