Maude Latour
We are by no means new Maude fans. Our obsession with Maude just keeps coming up every time she releases a new song. If you want to feel like you're in a coming-of-age indie movie with heartbreak and love, you need to listen to Maude. We think this is the year she will blow up, and we just want this on record. 2021 is the year of Maude Latour.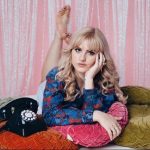 Emily Treadgold
Ginesse
If you know me, I've forced you to listen to Ginesse. I think her shimmering brand of LA pop is perfect, dark but glistening at the same time. There's something about her music that is so addicting. It feels so casual but so meaningful at the same time, like late-night talks with your best friend.
Jae Stephens
Jae Stephens was one of my most played artists in 2020. I always describe her songs as "cool girl energy" because that's just how you feel when you listen to it. Like you walk into a room, and people just know you're the shit. It elevates your attitude and is absolutely contagious.
Winona Oak
If you want the feeling of falling in love without the hassle, please turn to Winona Oak's addictive songs. Whether it's love or heartbreak or anything in between, her music feels like I'm flying. Her delicate vocals will give you goosebumps.
Pearl Charles
Pearl Charles just released her new album, and I can't stop listening. It plays with all of my great musical loves: Western vibes, ABBA, a Lana Del Reyesque sense for poetic lyrics. This album will never get old to me; it's an instant classic and perfectly fitting for any of my favorite late-night drives and restless thoughts.
Jaguar Jonze
Jaguar Jonze defined 2020 for me with not only her perfectly crafted songs, but her absolute tenacity and fearlessness calling out a sexual predator. If you don't think that has anything to do with musical prowess, you have no idea about the strength it takes to do both. Jaguar Jonze's "MURDER" was one of our favorite songs of 2020. It's Avant-guard and exciting. So hypnotic, you never want it to end. If you could make an editorial photoshoot into a song, it would be Jaguar Jonze's music.
Rina Sawayama
Rina is inescapable this year. Rina's brand of pop is far from generic. Her smart pop is not only created to be addictive but always has undercurrents of world issues that you could decipher for ages. It feels wrong even labeling her as a genre because she seems to blend all of them so effortlessly. It's Rina's world, and we're just living in it.
Silver Sphere
Silver Sphere is a hybrid of Taylor Swift and Lana Del Rey to me. Her songwriting prowess is insane, but it's like she has a screw loose, a hint of controversy and edginess. Dangerous pop is what I'm branding it. Her songs are stuck in your head forever, and you just have to live with it, but I promise it will vastly improve your life with her attitude living rent-free in your mind.
Emily Vu
An angel. That's all I can say. Emily's vulnerability is so pure and genuine. You can feel all of her feelings. Her songs are so cathartic, and I think she connects with her audience on a whole other level. She's truly a new kind of artist, and I hope she sets a precedent for transparency and authenticity for artists. It's only going up from here for her.
Nova Miller
Nova brought me so much joy in 2020. Her voice, her melodies, it's like ABBA on steroids. Nova seems to do everything with such ease. She can sing any song, and she seems to play every instrument. Nova is like a machine that Sweden made to destroy American pop, and I'm totally here for it. Her candy-coated outfits and bright blonde hair are the epitomai of super pop, but she a warm personality that makes you absolutely addicted.
Blu DeTiger
Blu DeTiger had a great 2020. The incredibly talented bassist blew up on Tik Tok with her insane covers, and her song skyrocketed. Now, we hate to brag, but we've known Blu for a long time, and we've always known she was meant to be famous. We're the biggest Kitten fans, and Blu has always maintained this cool girl energy we're so envious of. Nothing is out of reach for her, and we all know it.