Babygirl's chill, indie vibe is exactly what you need. Their new EP "Losers Weepers" is filled with the kind of angst and longing that everyone can relate to. We talked to them about the new project, having a depressing year, and their best advice.
How did Babygirl form?
Babygirl: We met in college! We started writing songs together, initially thinking they would be for other artists, but Babygirl formed once we started writing songs that felt like ours to keep.
Tell me about your new EP, Losers Weepers, what's the story behind it?
Babygirl: We had the EP title for quite a while - most of the songs are about loss or disappointment, so it felt like it fit together well.
Is there a particular song that was really special to release?
Babygirl: "You Were in My Dream Last Night" is one of our favourites, we spent a long time on that one so when it finally came out it felt a little surreal.
Has it been hard to stay motivated/creative this past year?
Babygirl: Yes, we've both been very, very low. It's cool that people are making multiple quarantine albums and whatever, but also like… this has been a very depressing year. If you didn't do a single thing of importance, don't feel bad for a second.
What has been inspiring you lately?
Babygirl: Dance music. I need input that is the exact opposite of how I'm feeling right now, and dance music helps trick me into having a good time.
What has been one of the biggest challenges in your career?
Babygirl:  2020 was our first year as a signed band, and we were set to join as openers on a European tour that ended up getting canceled. Experiencing that letdown and knowing there was nothing we could do to change it dented our hopefulness a bit. I think it's going to be a huge challenge for us to regain the sense of optimism we had going into 2020.
What artist have you had on loop recently?
Babygirl: Lady Gaga.
What would be your best piece of advice for your younger self?
Babygirl: I wish I started playing guitar sooner. So I would tell myself to get my ass onto Kijiji and buy a cheap used guitar and start practicing. With a metronome, girl!!!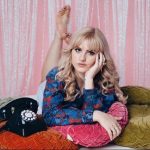 Emily Treadgold