Bailey Baum's new EP "Over It" is the perfect soundtrack to those growing pains of early adulthood. Your unpredictable struggles of heartbreak and friendship in your 20s and not knowing exactly where you'll land. Her angelic voice and soft melodies are the perfect inner monologue. We talked to her about the new music and trusting the process.
Bailey! How did you get started in music?
Bailey: I've always been listening to music around my family or on the radio, so from a young age, it was always a very organic discovery process. I remember when I was 5 or 6 years old and started singing "White Christmas" and told my mom I wanted her to hear it because I thought I could really sing. I stood up on the fireplace in front of my whole family and sang my heart out, and that was the moment I knew this was what I wanted to pursue. I started voice lessons soon after that and never quit.
Tell me about your upcoming "Over It" EP. What's the story behind it?
Bailey: I would say Over It is whatever you want it to be. As all music is, this project should be subject to whatever emotions the listener is feeling at that time. And for that reason, the meaning of this project can be ever-changing. Some may listen to it and feel feelings of falling in love, happiness, being carefree, young, crazy, etc. Other people might listen to it and feel empowered to make a decision in a relationship that they've been cycling through for a long time. And someone else might listen to it and feel sad, brokenhearted, or even lonely. I felt all of those different emotions throughout the making of this project, so I know it can be perceived in all of those different ways.
How does it feel having your debut EP out in the world?
Bailey: It's exciting but also so scary. Releasing music is such an honest and vulnerable thing to put out for the world to judge, but I also think that's what is so rewarding about it. You share a vulnerable piece of yourself with people and realize you're not alone in your experiences and thoughts. 
Is there a particular song you're dying to perform live?
Bailey: I would probably say "Not Missing You" I recently learned to play it on piano, and it's such an emotional song for me, so that would be a fun one to do. 
How have you stayed motivated to create this past year?
Bailey: I think having the time to focus on myself, and this project was really helpful for creating because there was so much time to look into things in a deeper way than before. 
What has been one of the biggest challenges in your career?
Bailey: The biggest thing I've had to learn is to just keep believing in your music, your process and never let roadblocks stop you from working towards your goals. Being an artist is one of the most difficult things because you are riding on your own creative visions, and it's so easy to get down about something you've created or doubt yourself and your abilities. Understanding that everything is just a process of learning, growing, and getting better is so important, and you can never stop believing in your vision. Working with new people and having a strong team and people who support you has been so important for my process as well.
What's your best piece of advice for young women? 
Bailey: I think not comparing yourself to other people. It's so easy in today's world to see someone else and feel you are doing enough or where you want to be yet. I think it's important to stay confident in where you are and not compare your journey to someone else's.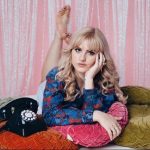 Emily Treadgold