BAYLI's music is a whole vibe, she's nailed that effortlessly cool sound and she's definitely an artist you need on your radar. We talked to her about her song "think of drugs" and what's been inspiring her lately.
How did you get started in music? 
BAYLI: I come from a family of avid music lovers, both singers, and dancers! So, I definitely caught the music bug super early as a young kid. That led me to start taking music lessons at 14 years old, forming my own band at 16, and signing my very first record deal at the ripe age of 17 years old.  
Was there a specific moment you knew this was your calling? 
BAYLI: There isn't a specific or singular moment that comes to mind, but when I started getting flown across the country and around the world to perform is when I knew that I might have something really rare and special on my hands. When I think about it now, it's important that I had the epiphany about my purpose during those young, formative years because I've taken my career and my craft very seriously since then. 
Tell me about your song "think of drugs" what's the story behind it? 
BAYLI: "think of drugs" is, yes, a love letter to my drug dealer but, even more important, it's a letter to my younger self. Like many songs of mine, the lyrics are intimate and discuss uncomfortable realities about my upbringing (i.e., seeing addiction in the household growing up), so it's really a quick way to get to know me if you're listening to my music for the first time (lol)! But, all jokes aside, dropping a song as vulnerable as "think of drugs" has been a quite cathartic and therapeutic release, and I hope it helps my listeners to feel seen and gives them some form of release as well. 
How did it feel to be chosen as a Spotify EQUAL Ambassador? 
BAYLI: I've been working really hard for a very long time, particularly in the past two years, so being acknowledged by Spotify felt incredible. Being an artist at the intersection of a lot of historically marginalized groups has reminded me how important it is that I continue to use my platforms to help tell stories and share new perspectives that have a positive impact for womyn and the queer community. 
What has been one of the biggest challenges in your career? 
BAYLI: The biggest challenge for me has definitely been demanding my worth and making sure that I'm being compensated properly and equally. Equal pay is just as rare as equal opportunity, especially as a black, queer woman, so it's a challenge I'm constantly taking on and hope to continue being successful at overcoming. 
What else has been inspiring you lately? 
BAYLI: Honestly… time to myself. Normally, I'm always looking for outside experiences and stories to inspire me, but lately, I've been looking inward. I'm discovering that there is nothing more thrilling than closing my eyes and letting my imagination do its thing. 
Who are your musical heroes?  
BAYLI: I have sooooo many throughout so many different decades! Nat, Quincy, Stevie Wonder, Jimi Hendrix, Aretha Franklin, Paul McCartney, Lauryn Hill, Beyonce, The Spice Girls, Amy Winehouse, Bjork! There are so many more that come to mind, and I just don't have the room to list them all. 
What's your best piece of advice to your younger self? 
BAYLI: Be confident and listen to your intuition! Your gut hasn't led you astray yet, not even one time
Keep up with BAYLI on Spotify and Instagram.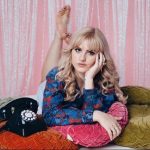 Emily Treadgold