I was lucky enough to attend Beychella last year so I knew this year's had to be something special. Needless to say, this year did not disappoint either. I'm not sure if it's the heat, but there's an overwhelming feeling about setting foot onto the grounds and being greeted by all the colorful art exhibits. It almost makes me forget about my foot going numb from running from Blackpink's set at the Sahara tent to the main stage to catch The 1975.
All in all, this was the most wonderful weekend and I already have post concert depression typing this up.
Friday
SG Lewis: Between his own remixes and individual creations, SG Lewis is a sight to see. Seriously, Sam is ridiculous. His high energy and infectious smile won over the crowd immediately. He premiered a song with RUEL during weekend 2 and that was so special for everyone. The two had such chemistry and everyone loved it. All the hype you keep hearing about this talented guy, believe it because he's going to be doing so much more very soon.
Kacey Musgraves: What can I say about Kacey that hasn't already been said by many? Golden Hour was such a significant album for me in 2018 to be able to witness her headline tour on top of a festival slot was astounding. She truly makes you feel like you're in the most intimate setting, even surrounded by hundreds of individuals on a 100 degree day. She brought the yee and the haw, gave a nod to 4/20 and reminded everyone that we deserved to be loved and to extend that love right back. Oh, what a performance indeed.
Jaden Smith: For me, Jaden Smith was the dark horse of the festival. I only knew a few of his songs, but I was very intrigued as to what his set wold look like. I was amazed. There was a floating car to promote ERYS, but the most incredible part was that Jaden's father, joined the stage for a track. Yes, Will Smith performed at Coachella and I was able to witness that with my own two eyes. It's easy to see where Jaden gets his stage presence from. He and his dad drew the crowd in and before you knew it, everyone was jumping up and down and getting hyped up with each word.
Blackpink: K-pop for me is a recent development, but all four of these women are something unique. Lisa, Jennie, Rosé and Jisoo are addicting and from the moment they hit the stage, you're hypnotized. The group opened with the infamous DDU-DU DDU-DU and the crowd screamed back every word. Even better, half the group knew the dance because are you even a Blink if you don't sway your hips and point your fingers to this song? I seriously am so glad this group got the recognition from America they deserved. I am psyched to see what else is to come their way for the remainder of the year.
The 1975: I remember when I first discovered this band and how I hoped one day they'd make it big in America. It's crazy, but their music has held together so many of my personal relationships. I saw their headlining tour three years ago and to watch them play on the Coachella stage was a dream. They played their cult favorites like "Sex" and "Chocolate" before presenting their singles from A Brief Inquiry Into Online Relationships. I didn't think "Love It If We Made It" could get any better than blasting in my car, but with the screens behind the group, it was life-changing. The group closed their set with "The Sound" and while it was only 50 minutes, it was a flawless taste of the new era before the group returns to Southern California with their headline tour.
Janelle Monae: Everything Janelle does is truly magic. Her performance was so much fun to watch. Between the multiple outfit changes and dance numbers, her high energy was magnetic. She has such a presence that makes you feel in the moment and this is an act I don't think I'll ever forget.
Childish Gambino: When the time came for Childish Gambino to hit the stage, everyone immediately turned around. I kept wondering why no one was actually looking at the main stage and the answer was literally right behind me. Childish Gambino was on a riser just singing before turning around and walking down a runway towards the main stage. Chidlish's set is more than just a concert, it's a performance.
Saturday:
Bazzi: Bazzi has the chillest and yet the most uplifting set if you could imagine that. He played his latest hit, "Paradise" and the entire crowd was swaying to every lyric before going into a cover of MGMT's "Electric Feel" in which half of us clearly showed our age. He closed the set with "Mine" and everyone lost it.
Maggie Rogers: Since hearing "Alaska" in 2016, I knew Maggie was going to captivate crowds. With her debut album, "Heard It In A Past Life" and sold out tours throughout America, it's been so wonderful to follow this journey with her. From the moment she took the stage she had everyone hooked. Each person in the crowd screamed the chorus to "Give A Little" right back to her. It's been wonderful following Maggie's journey and it's only just started for her.
Billie Eilish: My wonderful Billie. This 17 year old has gotten every bit of recognition she deserves. Children love her, adults love her, and females especially love her. I think it's because she's the version that we wish we could have been at her age. Her visuals allowed you to peep inside of her mind and it showed the vision of her album inspiration. It's no secret the crowd loves her. Billie teared up a bit at the large amounts of fans cheering her name, jumping along and overall echoing every word back to her. I am seriously so proud of this girl and I can't wait to see what she accomplishes.
Tame Impala: After hearing so many people rave about an artist I had never heard of until I saw this year's lineup, I had to check this out for myself. I can definitely believe the hype after seeing a few songs of Kevin's set. His demeanor is electric and his chic and cool vibe is the perfect accompaniment to the psychedelic visuals of his stage.
Sunday:
Lizzo: Lizzo's performance this weekend was in your face, but in the best way. She donned a bright red sequin number with a rose sleeve before opening with her ballad, "Cuz I Love You." Her album had just debuted that Friday but you wouldn't have even known it. Fans were already singing back the words to "Jerome" and "Soulmate." The crowd also participated into a singalong to TLC's "No Scrubs." Lizzo is a firecracker. We experienced a technical difficulty and she simply cut the music off and everyone sang along without a track before she brought out the real star of the show, Sasha Flute.  And she's 100% right. "Juice" is definitely the song of the summer.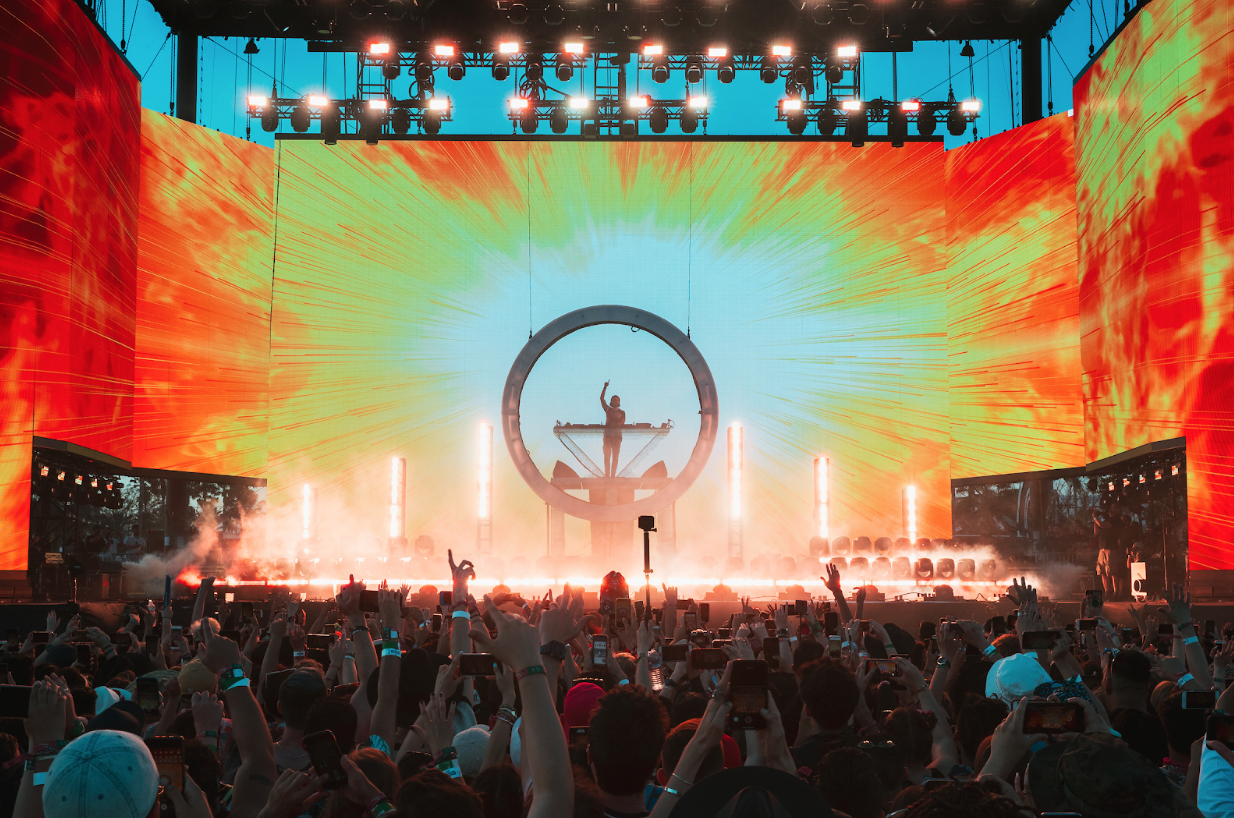 Zedd: Zedd on his own with his hits is great, but when Zedd brings out surprise guests Alessia Cara and Maren Morris, it's even better. The producer/DJ lit up the evening on Sunday and it was the perfect way to watch the sunset behind the mountains. I can honestly say I enjoyed his performance more than I thought I would.
Khalid:
Khalid's set is very aesthetically pleasing. His delicate voice pairs well with his visuals and to see Free Spirit's vision come to fruition was the best. He brought out John Mayer for "Outta My Head" and it was so great. After seeing his crowd and the amount of people he's touched with his music, it's no wonder he was just inducted to TIME's 100 list of influential people.
CHVRCHES: CHVRCHES is electrifying. Lauren's vocals are bar none. They sang banger after banger and I seriously hope they do a headlining tour soon because I already miss Lauren's high ponytail and spinning across the stage.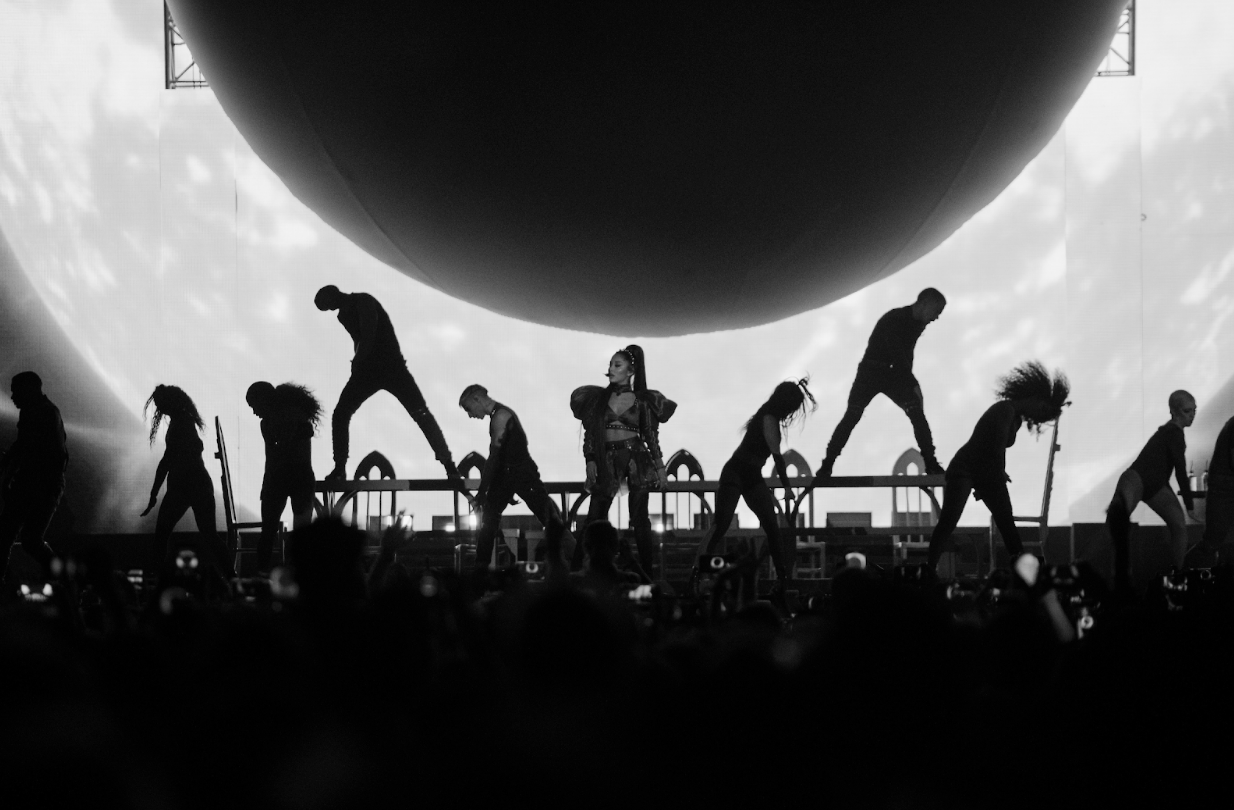 Ariana Grande: Wow. My true pop princess.  Ariana has been through so much and I know we've all said it, but to witness her become the youngest female (emphasis on female) headliner in Coachella history is the most phenomenal thing. Having seen footage of her sweetener tour, she made a point to create this set specific and different for her audience. The outfit changes were done with glitter and shimmer - typical Ari fashion. The visuals? Perfection. Aside from bringing out *NSYNC for weekend one, I was graced with Justin Bieber making his first performance in over two years for weekend two. It was the best spur of the moment surprise!! The night was completed with an encore performance of "thank u, next" and confetti. I can't wait to see her again in a month for her sweetener set. Love you forever, Ariana.
Vendors and more:
I was very impressed with the different vendors for Coachella this year. What was most noteworthy was the fact that Amazon had lockers for festival goers. Celebrities like Vanessa Hudgens and Charles Melton all took part in utilizing this service. Alyssa with Amazon tells me this gave customers the opportunity to ship what they need to the festival rather than pack a lot and carry it inside the grounds. "If they need anything, they can just send it and it'll get there within a day. It helps them not plan so much ahead."
Also, the food. YES, the food. They had my LA favorites like Sweetfin and Salt & Straw and tons of vegan options. It was very inclusive of people's diets and I hope this trend continues in the future. Bonus things from the weekend were the Calvin Klein house with cute instagram-worthy exhibits and Patene house where we were able to get our hair done professionally.
<p class="p2">
Samantha Fong
"At 15 years old, I begged my mom to take me to Walmart to get Taylor Swift's debut deluxe album and I never turned back. This was my very first entry point to stan fandom. Growing up in Memphis, Tennessee I was exposed to a ton of music - from rapping 3 6 Mafia to bopping to Justin Timberlake's solo discography. Now, in LA have a day job working in nonprofit development, but by night, I'm a full-fledged fangirl. I'll listen to generally any genre, but I'm a sucker for a good pop song. If you ever need someone to scream sing Carly Rae Jepsen's E·MO·TION with, I'm your girl. No, I still have not gotten over the One Direction hiatus. Please continue to respect my privacy. Twitter : samfonggg, Instagram : samantha_fong"
</p>