DASHA's brutal honesty and a knack for earwormy melodies that you can't shake definitely make her an artist who needs to be on your radar. We're obsessed with her attitude and we're suckers for a perfect breakup anthem. We talked to DASHA about her new music video, how to get over a breakup, and the challenges she's faced in her career.
How did you get started in music? 
DASHA: I've done musical theatre since I was really young. I started playing piano and guitar around age 10 and from there, very organically, I started writing songs. My older brother, Bardo is also a producer and songwriter and he was a big contributor to my start in music as well.
Tell me about the song "None Of My Business". What's the story behind it?
DASHA: I wrote it with Chelsea Balan in the first few weeks of quarantine and cut the vocals in my bedroom! The idea of the song was inspired by real feelings I was having. No, I was never cheated on and no I never walked in on my boyfriend with another girl, but I was so hurt by this guy that I might as well have. I exaggerated my emotions into this super extra story of getting cheated on, just for the fun of it.
What's your best tip for getting over a breakup?
DASHA: Focus on yourself and focus on the positives. Of course this is coming from someone who has never actually gone through a real break up before.
I love the video! What was the inspo for it?
DASHA: My team and I were talking about ideas and I brought in my good friend from high school, Grant Thorshov (director). I had the original idea and outline of the video and Grant just added more magic to it! I wanted to include some of the women who inspire me in my life so it was a no brainer to feature Cascina Caradona, Tyra Popovich and Grace Cutler.
What has been one of the biggest challenges for you in your career?
DASHA: One of my biggest challenges in my artistic process is usually finding the right producer/production for the song. Production changes so much about a song and it's crazy changing a song that you poured yourself into over acoustic guitar or wrote on the piano in your living room into something bigger and hopefully better.
What has been keeping you motivated lately?
DASHA: The songs I have ready to release in my catalog are my main motivations. I'm trying to create a fan base and platform big enough right now so when I release these songs that I'm super proud of, tons of people will actually hear them.
What's your best piece of advice for young women?
DASHA: Take everyone's opinion with a grain of salt. People love to tell others what to do, especially women. Trust your gut because you'll always know what's best for yourself.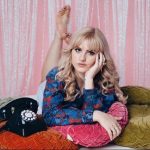 Emily Treadgold