DAVA's unique sound and vibrant energy make her a must-listen. Her songs have this edge, it feels dangerous. We talked to her about staying motivated, wanting to be heard, and "New Ceilings."
How did you get started in music?
DAVA: I got my first guitar when I was eight. I was so excited, I never wanted to put it down. Oklahoma was such a quiet place and in my bedroom writing songs was a place it could feel a little louder.
I know you spent some time in Texas growing up. I'm a Texan and I'm always thrilled to see fellow Texas girls who love pop, what were some of your inspirations growing up?
DAVA: I was obsessed with The Killers and Gwen when she was in No Doubt. They definitely influenced me and still do.
Tell me about your new song "New Ceilings." What's the story behind it?
DAVA: I was having a bad day, rushing to a session a label had gotten me. I was still independent and struggling but very eager to be in those rooms. As I was on my way my phone service was shut off, I drove around for a long time trying to find the place without a map and I remember circling the neighborhoods and crying. It felt like I would never have a place outside the life I knew. I was taking care of my grandmother and driving for Uber and barbering on the side. I wanted to do music, more than just a hobby for so long. At this moment I felt like I didn't belong. I finally found the spot and cleaned myself up. I remember Mike, the producer being so kind. He asked what I wanted to write about that day and I told him how stuck I felt. He encouraged me to write about that and before the day was done we had written 'New Ceilings'.
How have you been staying motivated with the ongoing pandemic?
DAVA: I just keep creating. I watch a lot of music videos and grab a lot of magazines. Doing everything from home has actually not been that different for me.
What has been the biggest challenge for you in music?
DAVA: Feeling heard and understood in my own skin. I know what I want to do and accomplish very clearly but it hasn't been easy finding other people that also want that for me.
What else has been inspiring you?
DAVA: People! LA. I don't get out much to see it but when I leave my house for a coffee and some air I really appreciate the tiny bits of human interaction. And of course the constant pursuit of happiness and new ceilings.
What is your best piece of advice for young women?
DAVA: Don't let anyone make you feel like you expect too much out of life. You deserve to live your dreams. Keep people around you who truly see your light. Be kind to yourself.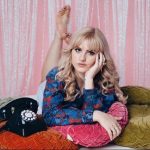 Emily Treadgold