Elizabeth Gerardi's new song "Cherry Cola" is giving us solid Lana Del Rey BTD era vibes. It's sunshine and effervescent and the classic imagery ties it all together. We talked to Elizabeth about the Audrey Hepburn quote that inspired the song, modesty in feminism, and the challenges she's faced in her career.
How did you get started in music? 
Elizabeth: I've always loved to sing, so many of my earliest memories revolve around singing. When I was 12 years old I taught myself how to play guitar and started writing songs shortly after that. As soon as I started playing guitar it went from a hobby to passion and I knew it was what I wanted to do. In 2017 I moved to Nashville to work on my songwriting and pursue a music career.  
Tell me about your new song "Cherry Cola" what's the story behind it?
Elizabeth: Cherry Cola was loosely inspired by one of my favorite Audrey Hepburn quotes where she said "I don't need a bedroom to prove my womanliness, I can convey just as much sex appeal picking apples off a tree." I read that quote years ago and it always stuck with me because I've always been pretty modest. So many songs today are focused on women embracing their sexuality, which I completely understand because so many people find those songs empowering! But I knew that if I couldn't relate to those songs, there must be a lot of other girls like me. I fully support doing whatever makes you feel confident, but I think it's important especially for young girls to know you don't have to dress or act a certain way to be cool. Little things such as red lips sipping a cherry cola can convey sex appeal too!
I feel like modesty totally gets left out of the conversation of feminism, why do you think that happens?
Elizabeth: I think for so long women were put in a box, so the natural reaction was to run as far in the opposite direction as possible. But I don't think it has to be that black and white. The world would be so boring if we were all the same! Feminism isn't about one type of woman, it's about the freedom to be whatever type of women we want.
Did you happen to watch the recent Audrey doc? I thought it was incredible, why does she inspire you so much?
Elizabeth: I did! I've always considered Audrey and Jackie Kennedy to be my two main style icons, so anytime there's a documentary on either of them I'm excited to watch it! 
At first, I was inspired by Audrey's both on and off-screen wardrobe, but after watching documentaries and learning more about her it became so much more than that. The way she carried herself, she was truly the definition of class and grace. Not to mention, what a kind and caring person she was, dedicating her later years to humanitarian work with UNICEF. She's known mostly for her beauty but I think it radiated from within.
What else has been inspiring you lately?
Elizabeth: Last summer I was able to go back home to Rhode Island for two months, which was the longest I've spent there since moving to Nashville. Growing up in New England really shaped who I am and inspires me in so many ways. I think I mention "New England" or some town or state in New England in at least 90% of my songs! (In 'Cherry Cola' I was reminiscing on summer days in Edgartown on Martha's Vineyard). Being in Rhode Island again was a much-needed reset and connected me back to the things I love like the ocean, lighthouses, and lobster rolls!
What has been one of the biggest challenges for you in the music industry?
Elizabeth: Before I moved to Nashville, I heard a lot of songwriters and artists say the songwriting community was really welcoming and everybody really roots for each other. I had the complete opposite experience. It's no secret that it's much harder for women in Nashville than men, but especially in the beginning it felt like nobody took me seriously and it was really hard to make connections.
How have you been staying motivated to create over the past year?
Elizabeth: It's definitely been harder this year than most. With COVID I've mostly been writing by myself instead of collaborating with other writers and at times it feels like my own life isn't interesting enough to consistently write about. I've been doing a lot of reading and then writing from other people's perspectives. The last song I released before 'Cherry Cola' was a sad, breakup song and I'm very much in a happy long-term relationship! 
What is your best piece of advice to young women?
Elizabeth: Honestly, stay true to yourself. It sounds so cliche, but whether it's the media or peer pressure, there is so much noise trying to tell people who and what they should be. What I'm most proud of in my life is that I've really always stayed true to myself. There were lots of times when I was in high school where my friends would laugh at my taste in music or tell me I shouldn't wear something I loved, and while there are definitely some outfits I look back on and cringe at, knowing I was being my complete authentic self at that time is something I'll never regret.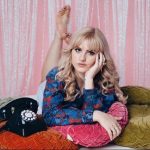 Emily Treadgold