Since June 2014, Emblem 3's (Keaton Stromberg, Wesley Stromberg, and Drew Chadwick) uncertain future as a band has been unclear and often speculated about by fans. It's been a rocky road of teasers, solo work, and more. While there was no formal "break up" post, the three artists found themselves exploring their own musical sound and projects that all seemed to deviate from the original "Emblem 3 sound" in different ways.
That was until Eyes Wide Open Tour, where the band formally reunited back on stage in New York City, where we had a chance to chat with the boys backstage and follow them on to the later Philadelphia show.
"We were going to do a tour in 2020, but it got canceled," explains Keaton. "Weeks before we were going to announce the tour dates," interjects Wesley.
It's evident these years independently as artists has shaped them for the better. Wesley explains that "We all grew immensely and got way better and now we write so smooth and easily."
Keaton further elaborates that "It helps a lot to have your own identity figured out and then bring together three different people together." This theme of individuality and personal skills will come to shape much of the tour and the artists as they look to the future.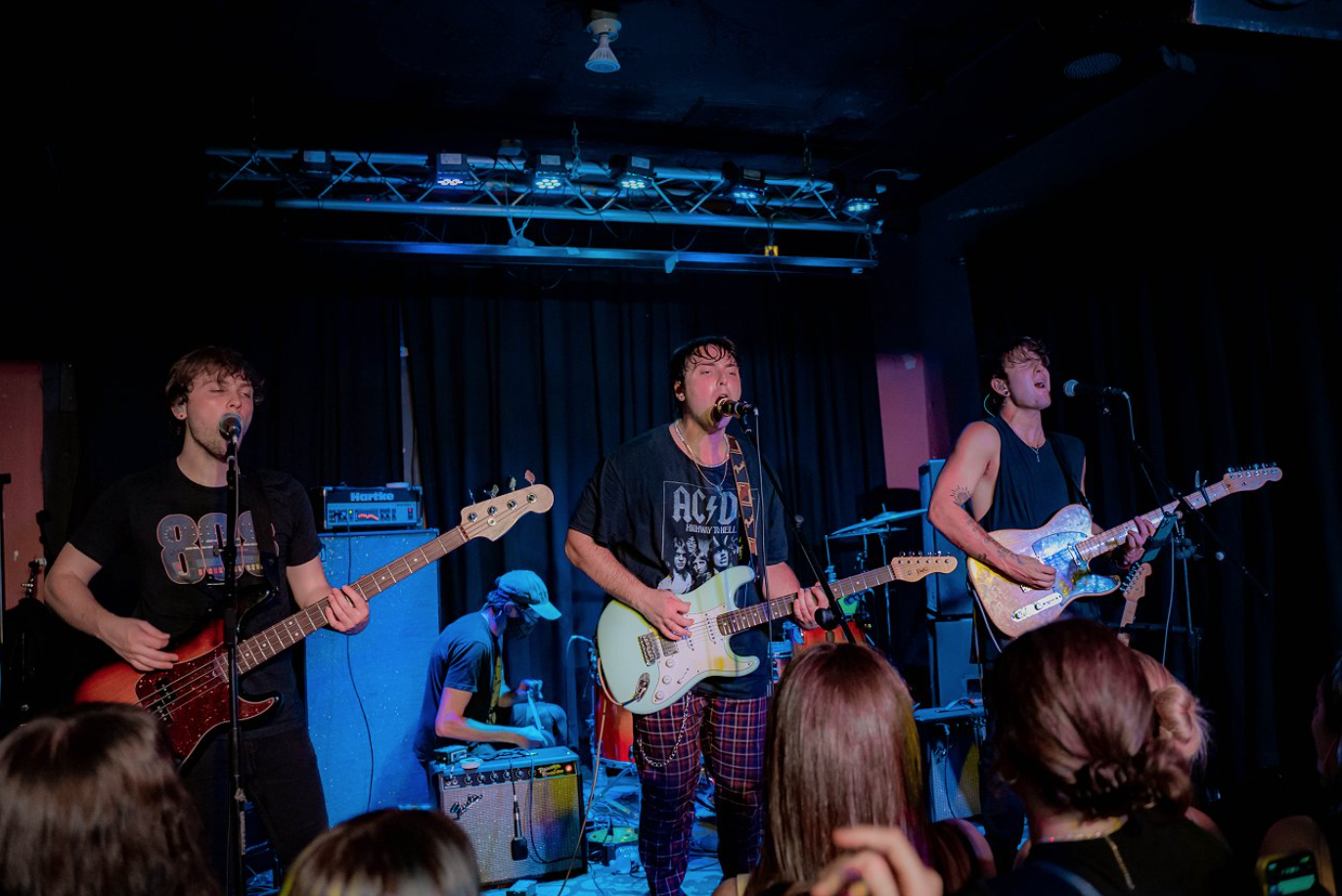 NEW YORK CITY
Before the venue was even open to the public, Keaton could be sound buzzing back and forth. He leapt from the VIP meet and greet line to the stage in an effort to ensure the sound gear, equipment, and more was set up properly and then back again, never pausing for a moment. Despite being the youngest member, it was clear that he was up to the responsibility of doing what it takes to make this show a success, which isn't always an easy feat.
Wesley was the calmer one (with clear big brother energy), focused on making sure every fan felt welcome, invited even, to ask any question and form a genuine connection. Emblem 3 had a unique VIP package available, giving their most diehard of fans the chance to interact both one-on-one with the artists. It was clear the fans are a core part of the reason why he does this, being the most active on social media and also explaining to us that "to see their reaction... that is literally life".
Drew wore a smirk on his face, teasing fans and treating them like family. He was a driving force of passion, love, and peace which was clear on-stage and off. He was centered, but in a grounding way rather than a calming way. Fans were eager to see him (showering him with hugs and love) alongside the other boys, having missed him during the brief time when Keaton and Wesley had carried on the Emblem 3 legacy without him.
Mercury Lounge was sold out. For a first show back as a trio in about 7 years, packing a Manhattan venue like that was nothing short of a victory. More notably, the show's date was exactly two years after Drew and Wesley reunited. "Drew and I met up on this day in 2019...August 19, 2019... our first show back together is on the day that Drew and I rekindled our friendship," explained Wesley.
It wasn't all smooth sailing, though. Truthfully, the band almost didn't come back together. Keaton wasn't so on board:
Wesley: "We then went to Keaton and were like, 'bro, we got to do this."
Keaton: "And I said no."
Wesley: "And then I said fuck that we're family..."
Keaton: "...and then I said yes."
From the moment they took the stage, the energy in the room went electric. They had captivated every single audience member's attention, regardless of if they were there as a true fan or just a casual concert-goer on a night out. I couldn't tell you if it was the boyband charm or the way you could see the spark of excitement in their own eyes, but it was clear that our night in New York City was going to be a good one.
Authenticity is so important to music, but that does not matter if who you are authentically is the shell of a person you used to be, having no individual qualities for yourself. After years in the limelight, it's easy to lose who you are and morph into another music industry clone. Emblem 3, though, has managed to soak in the California rays that are so often poisoned with questionable promises of stardom and still retain their true selves. In so many ways, this oozing personality is what has allowed them to retain a fanbase despite years of inactivity as a band.
Keaton reflects on this concept of self, saying that "it helps a lot to have your own identity figured out and then bring together three different people together."
While I went in expecting a boyband, I left with the mature reassurance of a band who has finally found themselves.
Having seen the band last about 8 years ago in Hershey, Pennsylvania (where Wesley triumphantly announces they beat the Jonas Brothers in cornhole backstage), I only had this vision of three goofy kids singing in the rain at a stadium in mind. It was clear in their stage presence, interaction, and musical sound on this particular Manhattan night that this was nothing like who I saw before.
They were sure. They were confident. They were themselves. It didn't feel like they were running from their past either, but embracing it and building on top of it. Their setlist was a mix of new and old, but interestingly enough they even added an edgy cover of Fall Out Boy's "Sugar We're Going Down."
Drew says the inspiration for the new tunes is to "Kind of throw it back to the early surfer-rock indie-rock stuff, pop-punk a little bit," which is clear in the band's latest release "Eyes Wide Open." This new tune is the perfect fusion of their old boy band sound and a new dizzying component reflective of 5 Second of Summer's deeply pop-based rock.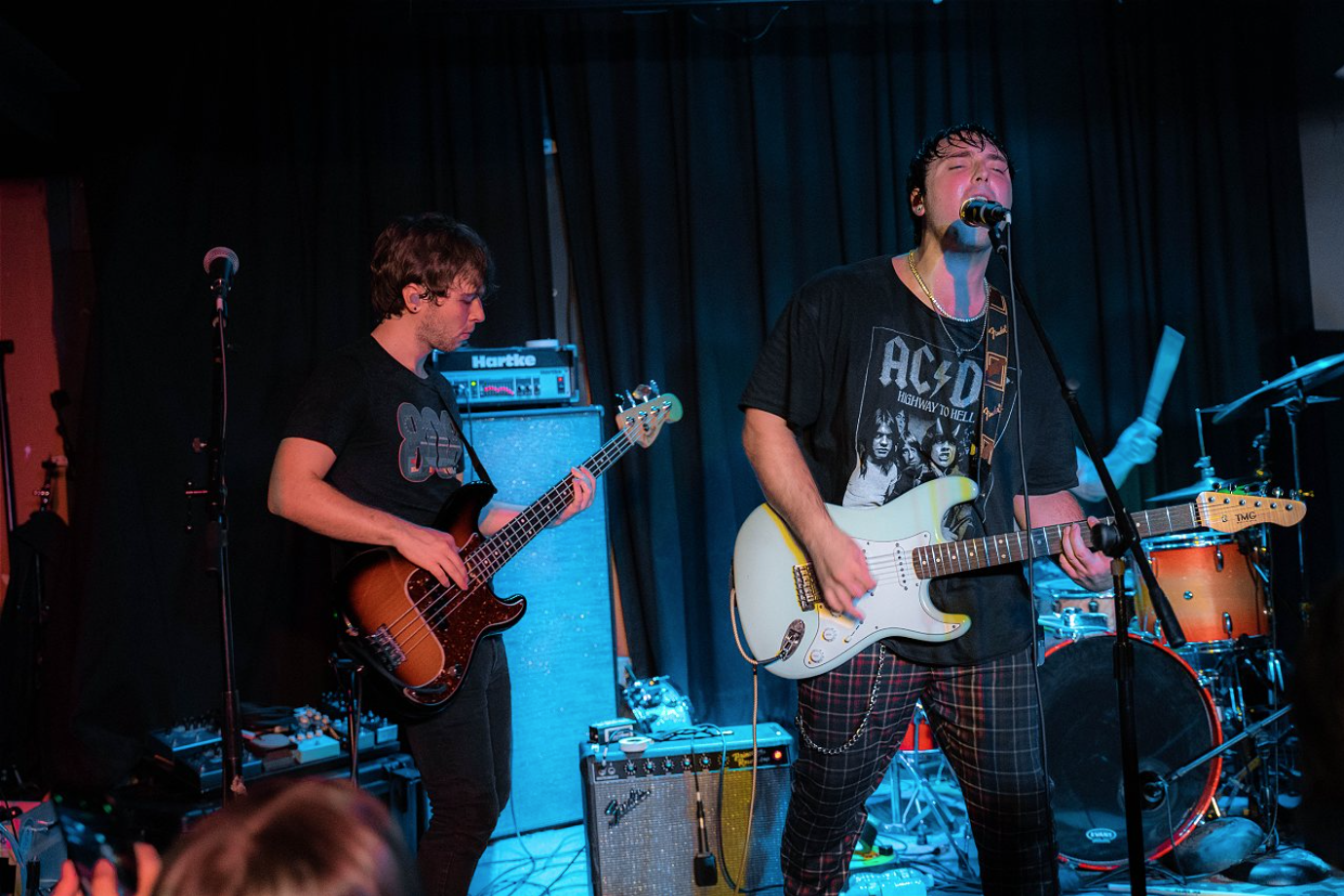 PHILADELPHIA
Their growth as a band was paralleled in their fans. When last Emblems (the band's fanbase) saw them, many were young girls experiencing a whole bunch of their "firsts" in life. Emblem 3 was many of their first boybands and first celebrity crushes. They adorned their walls in posters, begged their parents for concert tickets, and gushed over every detail the band released about their lives. In fact, my photographer reminds me that on that fateful day in 2014 when Drew left the band, it was even her first heartbreak. It was the classic boy band experience that every generation has. Emblem 3 isn't quick to forget it, either, with Keaton giving a quick shoutout to their "OG fans who are coming out."
And yet as I looked out at the Milkboy crowd in Philadelphia, it was clear these were not the same girls, but rather women. From tweens and teens who couldn't even drive to twenty-somethings celebrating at the bar between acts, they'd been with the band the entire time. Their starry-eyed obsession had simmered into descriptors more akin to dedication and passion.
Drew says, "they are everything because we share everything with them," with devotion and admiration in his voice.
Even after all this time, their boys did not disappoint them, playing their hearts out at this third show of tour. In Philadelphia, it felt less like a concert and more like a meeting between long lost friends. The band knew how to engage the audience, embracing their quirks and jokes and twisting the banter right back.
While the three-boys-with-instruments act isn't anything new per-se (Jonas Brothers, New Hope Club, etc.), Emblem 3 did clearly differentiate themselves by refusing to become copies of each other or trying too hard to blend into the boyband persona. Wesley notes that Emblem 3 is "a hybrid-fusion of three incredibly well-seasoned individual artists."
He takes the time to explain each of their sounds. Keaton is dubbed as the alt-rock king, pursuing this sound in his work with The Social. Drew is described as a "rap, rock, spiritual, cultural world." Wesley sees himself as "this more poppy... R&B... rock thing". While I'm not one to care too much for specific genre labels, at first, all these sounds can seem overwhelming and confusing. For Emblem 3, though, they have found a balance between them that just... works. It's a collision of music that you can't necessarily find elsewhere.
It seems that Eyes Wide Open Tour was a huge success, which is great because Keaton even referred to this handful of shows as a "test run."
It would be remiss not to give a special nod to those working behind the scenes on this tour to make everything possible: a team packed with strong women running everything from PR to merch to everything in between. They effortlessly made sure that this tour would be one that was smooth and unforgettable.
But what can we expect in the future from the band? That is the looming question on everyone's minds.
Keaton teases us with a wide array of possibilities: "We're going to have some tunes, probably a full-length album, we're going to do more tour, maybe a little of an acoustic tour."
It was Drew, though, who gave us something a bit more tangible. He says that we should be keeping our eyes peeled for a bigger tour toward the spring.
While the last several years of Emblem 3 have been tumultuous and confusing, it seems that the foreseeable future is bright. While all artists plan to still work on and hone their individual craft, the plans for more touring and music as a group is in the works. The boys' individual exploration is what has allowed them to build their sound so uniquely and fully, after all. Drew left us with this piece of advice for aspiring musicians: "Find your identity and really master yourself, like whatever your highest vision of yourself is... master that. No matter how long it takes... put in the work."
It seems Emblem 3 may have mastered it.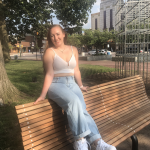 Alex West
I have a split in fangirl tastes. On the one hand, the moment One Direction announces a reunion tour, I will empty my bank account to go. On the other, I'm mourning the loss of Warped Tour. Recently, though, life for me has been all about traveling, watching shows, and writing. It only seems natural that I would find my way to the tour life since my mom raised me on Rick Springfield and NKOTBSB.I'm a big believer in fangirls and the influence we have in the world. As a political science major, I try to find that slant of empowerment in everything I do and know that music can change the world.
<p class="p2">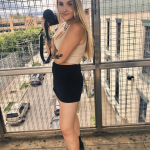 Ali Fitzgerald
Remember the One Direction era when we would all record the whole entire show to screenshot that split second of eye contact, a signature dance move, or facial expression? I've made it my mission as a photographer to capture those moments in HD. From the barricade to a photo, the fangirl travels with me. Every night I get to deliver fangirls to moments they love the most, I know I've found my calling!