The idea for KEANA's latest single, "Lilac," came to her in a dream, which is exactly why it takes its listeners on an immersive, dream-like journey into a world of her creation. With the atmospheric production and her lush vocals, you'll be fully transported into KEANA'S artistry. We got the chance to speak with KEANA a bit about her musical background, dream collaborations, and any upcoming projects.
To start, can you tell us a bit about your background in music? Where and how did your musical journey begin?
KEANA: I was known as the singer growing up at school. I was involved in anything related to the arts and spent my weekends driving to voice lessons, then choir practice. Once I got to high school was when I discovered electronic music. I listened to a lot of grimes and Phantogram and wanted to learn how to produce because I felt restricted writing songs on my guitar. I started out in logic and produced my first song, which was terrible, listening to it back years later. At the time, I felt so accomplished and proud of myself. I wanted to keep going, and from there, my body of work started to get better. Thanks to a good education and a lot of youtube tutorials, I finally perfected my sound.
I studied Electronic Production and Sound Design at Berklee College of Music. My teachers were incredible, and I learned a lot of the technical side of things there, but I really feel I learned the most from my friends. Seeing how their creative brain works, learning their tips and tricks and sharing mine with them. I love surrounding myself with creatives that are doing the damn thing. It's so inspiring.
Being from Los Angeles, I can't help but have a bit of "waviness" to my sound.
Who were some of the artists that inspired you to pursue a career in music? 
KEANA: Artists like Lana del Rey, Grimes, Yeah Yeah Yeahs, Mr Twin Sister, Portishead, Depeche Mode. The correlation I resonated with growing up with these artists is their signature dreamy darkness. 
Also, who are some artists that you're listening to today and would love to collaborate with?
KEANA: There are so many artists I'd love to collab with, but I'll keep it to the two that are most relevant to me at the moment!:
Total 180, but lately, I've been listening to a lot of bass music. I would love to collaborate on a song with Rezz. I love her style. I think my dreamy vocals and lyrics on some heavy bass would be such a cool track. One of my goals is to hear my song played at an EDM festival.
I would love to produce a song for Lorde! I love her lyrics and unique raw voice. I like her vibe and feel the collab would be very fluid. 
Listening to your latest single, "Lilac," is such a hypnotic, dreamy experience. Can you tell us a bit about the inspiration behind this song, both lyrically and production-wise?
KEANA: Lilac speaks about wanting to be transported to another world where life stresses and fear do not exist. It was inspired by a dream I had one night; I believe, when I was living in Boston at the time. In this dream, I heard this voice speaking to me. I felt that it was guiding me to this mysterious place where I could relax in paradise. The only way I could describe this being was a "White Phantom," this being of light that took me to places of "lilac islands and lavender beaches." I feel the video captures the juxtaposition between the dark, ominous room and this colorful space where I move freely. 
I wasn't sure initially how I wanted the performance for the video to be. Around the time when I was brainstorming for it, I was getting drinks with a friend who happens to be majoring in dance at Cal State Fullerton. She said, "Some of the dancers in my class love your song. They're big fans and we already came up with choreography as a contemporary piece." I thought, let's take this to the next level and have them be in the music video! Everything fell into place perfectly, they're incredible.
When did your interest in music production begin, and how has that journey affected your songwriting process?
KEANA: I remember being in high school listening to Lana Del Rey and Lorde. I loved the way the electronic percussion and wavy synths painted a landscape for them to tell their poetic stories. I felt transported to their world. I've always been fascinated by surrealism and the dream state where our subconscious takes us for hours every night. For me, studying my dreams and writing out these stories from wherever they come from, it's a puzzle I can't wrap my head around. I'm a strong believer in metaphors in our dreams being the key that may lead us to the path that identifies our obstacles, the cause of our emotions, whether you may or may not know what that cause is. I replicate that world sonically to complement the story. My goal is to transport my listeners to this dream world. 
Do you have any exciting upcoming projects you can tell us about? What's next for KEANA?
KEANA: I am working on my debut album and cannot wait to release it and start touring. Since the pandemic, I've been home in front of my computer, producing for myself and other artists. My introverted side loves it, but I do miss being outside and performing. 2022 will be my year. I can feel it!
If you haven't already, then take this time to go stream KEANA's new single, "Lilac," on Spotify. And be sure to keep an eye out for her upcoming debut album. Remember, 2022 is the year of KEANA. 
Follow KEANA on Spotify to stay tuned.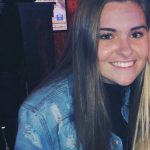 Grace Kuraska
For as long as I can remember growing up, music was constantly blasted throughout the house. My parents' love of music introduced me to pop and rock idols and icons of the past, setting me up for a life of fangirling over a confusing range of artists, from Fleetwood Mac to One Direction (still mourning the loss of the latter). I could spend hours at a time binge listening to albums, and researching new artists. Follow me on insta @gracekuraska.