Filipa's new song "Do Something" has been a major mood-booster these days. She's so unapologetic and her honesty is so refreshing and I think we've all been in a similar situation. We talked to her about her new song, self-care, and speaking your mind.
Tell me about "Do Something" what's the story behind it?
Filipa: Since I like to be transparent with my music, "Do Something" was written at a time where I was dealing with the confusion and frustration of a "pending" romantic relationship. It was my way of expressing my sentiment of "if you like me, just do something!" I wasn't coming from an angry or bitter place, but just from one of not appreciating the uncertainty while still maintaining was the calm and confidence. Mixed signals are frustrating and I like to know where I stand. So, the song sums that up. 
What else has been inspiring you lately?
Filipa: All kinds of relationships with everyone in my life, and even other people's with each other. These have been difficult times and the distance that hasn't allowed us to see loved ones face to face has really made it tough for me. On the other hand, though, having so much more time for myself has made me grateful for those relationships I have and little things I/we usually take for granted, like hugging your brother, your grandfather, your friend...
What has been one of the biggest challenges for you in the music industry? 
Filipa: One of the biggest challenges for me has been social media, actually. The music industry has become so much more than just the music you create and release. It has become so important to keep up a social presence and that is, I believe, the most difficult. The reach and scope of your audience are so huge that even though it keeps you in very close contact with your fans, it can drain you and change your focus completely. 
What's your writing practice like? 
Filipa: It follows a slightly different process every time, but it's usually centered around a theme or a concept. I like to write about things I'm presently dealing with to make sure the song is authentic. The mood and direction in the music and production usually come after the concept and compliments it. Whether I'm writing it on my own or collaborating, the concept is something that I lead with. The rest happens organically. 
What have you been doing to stay sane during quarantine? Have you picked up any new hobbies?
Filipa: Luckily, I'm a homebody, so quarantine hasn't been devastatingly hard to get through. However, I have been struggling with not being able to see my family and friends. It's hard to manage to stay sane when the world has changed so drastically, but I'm trying my best to make this new 'normal' work. I've completed my last semester of college, have become a master at board games, and have continued writing music online with a little home studio. FaceTime has also become my new means of socializing, which still allows me to spend time with the people I love, so I'm finding a way to cope. 
Mental health is so important in the music industry, how do you practice self-care? 
Filipa: I agree! Honestly, my friends and family keep me grounded. Being around them and leaning on them in times when I feel down, really acts as a form of self-care for me. I also make sure to look after myself; whether it's giving myself a breather when I need one, eating a chocolate when I need one, staying off of social media when things get too much or trying my best to find positive solutions when I hit a wall. Small steps count and make the world of a difference for me. 
What's your best piece of advice to young women?
Filipa: Speak up. I think it's so important to be able to express your opinion and feelings and not be afraid to do so. I'm so lucky to have such incredibly strong women in my life that have taught me to embrace so much of myself as a woman and to never let anyone make me feel less than. Be vigilant and know your worth. This world is messy and complicated, but when we are aware, strong, and independent, we can navigate through it better.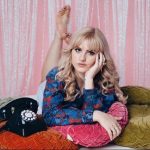 Emily Treadgold