BIZZY is the indie-pop songstress of your dreams. The 24-year-old Maryland native is already paving quite an impressive path for herself within the music industry. Raised on iconic pop influences such as Taylor Swift, BIZZY began playing the guitar at just twelve years old, which ultimately led to her attending the acclaimed Belmont University. And then she found herself smack dab in the center of a viral TikTok moment– a snippet of her debut single, "Anybody," blew up on the platform, garnering her over 10 million views. And it's absolutely no surprise why. From her witty and confessional lyricism to her humorous and infectious personality, BIZZY is a downright star.
She recently released her latest single, "My Age,"; a certified indie-pop bop that delves into the world of age-gap dating and allows BIZZY to effortlessly showcase her introspective and vulnerable writing.
Here at The New Nine, we were lucky enough to pick BIZZY's brain on a number of topics—everything from which Taylor Swift era she's currently into the inspiration behind her latest single, "My Age."
Can you give us a little peek into your songwriting process and how you've honed in on your songwriting muscle over the years?
BIZZY: I have two processes; one for co-writing and one for solo writing. My co-writing process is basically a therapy session. I go into the room with one or two people, and I try to be as vulnerable as possible, which has taken me a long time to feel safe and comfortable enough to do so. I feel like I'm still learning how to do that. I usually go in with a topic or concept I've been toying with, and then I try to explain my emotions and feelings behind it as much as possible so the other writers can get inside my head.
When I solo-write, it usually starts when I'm driving because that way, I'm sitting and can think (and I don't get distracted, lol, I'm so ADHD). I then basically just have a conversation with my emotions and really try to understand what they're saying. For example, if I'm talking about sadness, I'll ask what is that emotion trying to tell me, like "I'm sad because someone hurt me" or "I feel like the color blue and purple ."I know it sounds so weird, but it helps me uncover and pinpoint a fleeting feeling, which then allows me to take a picture of that feeling in the form of a song. So, in short, I'm just in a bunch of therapy sessions, and at the end, I come out with a song LOL.
I think the biggest thing I've had to hone in on when it comes to my writing is being able to be open and honest with others in the room. I have a tendency to clam up when I'm nervous and act like everything's fine, but if I wanna get a good song, I gotta talk about the nitty gritty.
As a huge Taylor Swift fan myself, and seeing that she's a big inspiration of yours – is there a specific Taylor Swift album that has had the most profound effect on your writing journey? (And just for fun, what Taylor Swift era are you currently in??)
BIZZY: Oh my GOSHHHH, I'm so glad you're a fan of her. She's simply iconic. I think in writing terms, her album 'Red' was a huge influence on my music. She was able to capture such intense feelings in such a visceral way. Ahh it gives me the chills just talking about it! She's so good! I would say I'm in my midnights era right now. I'm LOVING IT! It's like a little badass vibe meets like, flirty and fun.
Releasing such visceral and personal lyrics must feel a bit intimidating at times – putting your work out into the world for any curious ears to listen to. How do you deal with the emotions that come with that level of vulnerability? And has that changed the way you've approached your own personal relationships as well and how you write about them?
It's weird, but my lyrics being so personal kind of excites me. Like, I almost want people to really read into them and try to figure out what's going on in my life because that's what I love doing when I listen to other artists' music. It's a front-row seat into someone else's life and experiences. I feel like I learn so much from them in how to act and respond or feel less alone. Don't get me wrong, though, there are definitely times I've been nervous about releasing songs because they'll be SO clearly about someone, and I never know how that person is gonna respond. I don't think it's changed the way I write my music. I don't write music with the intention for other people to hear it. I write it based on what I need to hear or process.
And speaking of personal lyrics – can you tell us a bit more about the inspiration behind "My Age" and exploring age gaps in dating?
BIZZY: Ahh, yes, let's spill some TEA. 'My Age' was inspired by a personal experience I had with dating someone 12 years older than me. It was crazyyyyy. I feel like it matured me in a lot of ways, like in how I view myself in a relationship. Before him, I had only dated people within about a year's age gap from me. With him, I felt like he showed me a whole other side of dating, from the different conversations we would have about our views on the world and how growing up in different generations can change SO much about a person. I was having so much fun, but when I would go home after the date and process everything, I would always end up with the same question - "Would he have wanted me if he was my age"? Did he like me for me, or just because I was a young woman?
I'd love to hear more about your artistic journey in general--from studying at Belmont to your debut single, "Anybody," blowing up on Tik Tok. How has the past year or so been for you, and how have you come into your own identity as an artist? What's been your biggest "pinch me" moment thus far in your blossoming career?
BIZZY: It's funny because when I went to Belmont, I knew I wanted to be an artist the whole time. I was SO SCARED. So I decided to go in as a pure writer and just learn as much as I could writing for other people. I look back and am so grateful I did that because I think in all of those writes, I was learning what I liked and didn't like without even knowing it. It wasn't until covid hit that I realized enough is enough. I want to be an artist. I reached out to some close writer friends and told them I wanted to start a little artist project and asked if they would help. We started writing and wrote for about a year and a half before we wrote "Anybody ."That song was the first song where we were in the room, and I said, "This song just FEELS like me." I had no idea what I was doing when I posted it on TikTok. When it started to take off, I was blown away. I'm truly so grateful for platforms like TikTok that allow baby artists like me to have a chance at getting their music heard by people all over the world.
This year has been a WHIRLWIND in the best possible way. I feel like I released "Anybody" and have been running ever since, just trying to keep up, but it's been so fun. I think I've grown more this year than ever when it comes to my artistry. I feel like with every song I release and write. I hone in more and more on who I am and what I want to say. I'm not sure I'll ever nail it on the head, but I think that's the point. We as humans are constantly growing and changing, and our art is an extension of us, so that should inevitably grow and change as well.
My biggest pinch-me moment was actually a couple of months ago. I was on a double date with my best friend in DC. We were all playing pool, and this girl from the bar came up to me and said, "You kind of look like this artist BIZZY ."I awkwardly paused, not sure what I should say, and then responded with, "I kind of am," and I kid you not, she started BAWLING and telling me how my music has changed her life and how much she resonated with it. She pulled her boyfriend over (who clearly had no idea who I was) and was like, "When we broke up, 'Just Yet' was all I listened to. "It was the most CRAZY thing to see and hear that someone in real life, that wasn't my family or friend, actually liked and resonated with my music. I know it sounds dumb because I could look at Spotify numbers and be like woohoo, people are listening all over the world, but it never feels real until they're literally right in front of you telling personal stories like that. I'll literally never forget it.
Do you have any dream collaborations??
BIZZY: YESSS. I would quite literally pass away if I got to collab with Harry Styles. He's got such a unique sound, and I just feel like we would have a hoot of a time together.
Any other fun and exciting upcoming projects that you can tell us about?
BIZZY: Nothing I can announce at the moment. But I'll just say it will be a summer FILLED with music. 🙂
One thing's for certain – BIZZY is THE one to watch. If you haven't already, then go stream her latest single, "My Age," out now on all streaming platforms. And be sure to follow her on Instagram, Spotify, and TikTok so you can stay up-to-date on all things BIZZY.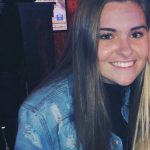 Grace Kuraska
For as long as I can remember growing up, music was constantly blasted throughout the house. My parents' love of music introduced me to pop and rock idols and icons of the past, setting me up for a life of fangirling over a confusing range of artists, from Fleetwood Mac to One Direction (still mourning the loss of the latter). I could spend hours at a time binge listening to albums, and researching new artists. Follow me on insta @gracekuraska.