If you haven't heard of up-and-coming singer/songwriter Zevia, then here's what you need to know – she writes gut-wrenching, introspective lyrics that delve into a variety of vulnerable topics – everything from heartache to mental health. 
Zevia's lyricism is raw and authentic – as she is continually unafraid to get gritty and deep. She's exactly the kind of artist we need today. 
We were lucky enough to be able to chat with her about her latest two singles, "poison" and "something I can't do" (coming 8/25), as well as pick her brain about her burgeoning musical career and her creative process. 
Can you give us some insight as to how music panned out for you and how you got to where you are today?
Zevia: Well, this has always been a dream. I didn't start writing the music I write until probably freshman year of high school. But I never thought I'd take it seriously. 
I got signed…I think it's been a year now. I never thought that would happen, either. It's still hard to believe until this day because I thought I'd be doing something else with my life. But it's always been a childhood dream. Always. 
I started out writing. I never thought my voice was good enough. So I would stick to writing and even poetry. And I didn't share it with anyone until three years ago. 
You were recently listed as one of People's 2023 Emerging Artists. Congratulations. That must've felt very validating as an artist. What was that moment like for you?
Zevia: It was great. I think that a lot of other things before I got signed, like getting recognized in public, was one of the one things that was like - people do know me. 
Now, it just keeps on getting better. Like People's Magazine, hello, yeah, I didn't know how to feel. It took me a while to believe it. I woke up one morning, and I was like, "Oh, fuck,."
Are there any specific artists who inspired you to want to write songs to begin with?
Zevia: I don't think I really listened to any music like mine. I listened to a lot of NF and Jessie Reyez. And the difference between the two is NF is this sad person, and I adore the way he wrote his songs. 
Jessie Reyez - I loved her because she sang in Spanish and sang about all these different things.
I think that's where a lot of my inspiration came from.
What is your songwriting process like? Does inspiration strike randomly, or do you purposefully sit down and say, "I'm gonna write a song today!"?
Zevia: It could be both. Most of the time, believe it or not, I do struggle with writer's block, especially since I've been in the studio. Because being in the studio is still new to me. 
And it's taken me a while to adjust to having people write with me or hear me and my process. But there's never a specific process. 
Can you talk a little about the specific writing process and inspiration behind your two latest singles, "Poison" and "something I can't Do"?
Zevia: [For "poison"], I'm still very hard on myself, and I wanted to write a song where I was talking straight shit about myself. I have a lot of songs where I'm talking about how problematic I am, but "Poison" is probably my favorite because it describes how I am literally my own enemy. 
I think that everything is in anybody's control like you are in your own control. For me, everything that I think and everything I do, the way I react, they're all uncontrollable. I thought I'd put it in a song in a beautiful way. That's probably the main flaw that makes me get as low as I can get. 
And then for "something I can't do," it was kind of the opposite. That process was beautiful. This dude played amazing piano, and I got inspired immediately, and I was like, let me write something [about] if I lived my life over, would I do it again? And taking in the fact that I can't be happy or save myself from pain if that makes sense.
I love how raw your lyrics are. And your vocals as well. How do you cope with this level of vulnerability when releasing music? Do you find this difficult?
Zevia: I don't think so anymore. And the world kind of made me realize that. I think that there are people out there who are gonna get it, and I've seen a lot of people who don't - and it's mainly moms. Everybody has their own way of thinking. 
Right now, the main message in all of my music [...] is that there's only a certain way that I think in which I write. And that is what I put out. And it is vulnerable. 
And I think that with social media now and songs and music, I feel like there's a good understanding, especially with younger kids…[That] young kids are going through more depression than adults now. So I wish I had my music to listen to…I wish somebody made my type of music so I could listen to it when I was down. I never had that escape with music.
Is there a fun fact you'd like your fans to know about you?
Zevia: I'm not gonna lie; I'm kind of boring. 
I don't know; I always felt like - if we're on vulnerability - I've always felt like music was the only thing for me. It's an insecurity I don't think I've ever shared, but I don't think there's anything else that I'm good at. 
This is more of a message, but in time people can find more things they're good at. Like I've always written poems, and I feel like a lot of people don't know that, but they're going to - cause I have some surprises. I loved English and language and poetry, even though I failed my class, but, like, that doesn't define anything. And it's something that I'm kind of growing into now. Kind of like Tupac. 
"poison" is available now and "something I can't do" is coming out on August 25th. Be sure to follow Zevia on Instagram and Spotify in order to stay up-to-date with any more exciting announcements!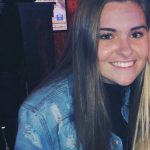 Grace Kuraska
For as long as I can remember growing up, music was constantly blasted throughout the house. My parents' love of music introduced me to pop and rock idols and icons of the past, setting me up for a life of fangirling over a confusing range of artists, from Fleetwood Mac to One Direction (still mourning the loss of the latter). I could spend hours at a time binge listening to albums, and researching new artists. Follow me on insta @gracekuraska.