Ginesse is the art project of actress Cait Fairbanks, and the way she creates this whole new world and persona really makes her music so unique. Her new EP "Somewhere to Die" has zero skippable songs and each one is a total vibe. It's shimmering pop with lyrics that are so specific and vulnerable that it makes you feel like you're reading her diary, and in a world of fakes, it feels more real. It's the embodiment of the LA scene, a glittering facade with an edge of darkness and heartbreak. We talked to the artist about dating in LA, trusting your gut, and why you need to give yourself time to rest.
How did you get started in music?
Ginesse: I started writing music after I took a songwriting camp with Debbie Gibson — I know, a real TBT! She was really supportive of my ideas and I think that's what really gave me the confidence to start listening to my voice and saying what I wanted to say through my music.
I'm obsessed with 'Somewhere To Die'! What does that title mean to you?
Ginesse: For me, 'Somewhere To Die' is about a resting place. I've found a safe haven in the close friendships and relationships I've had in my life. They haven't all worked out, but they gave me a place to rest my head.
"White Denim" is a bop, what's the story behind it?
Ginesse: It's about a few different dating experiences I've had in LA. Mostly, the people who think they are famous. They think they can come back into your life and throw you a compliment and you are supposed to stop everything and love them. I fell into that trap a few times, but I never got emotionally invested. It's like my body knew that these guys weren't to be trusted. One of these guys actually DM'ed me while I was in a session and that's how the idea of this song was born.
Do you feel like your acting background influences your music? 
Ginesse: Everything I've ever done influences my music! I think acting has helped me write songs from a different perspective. If I only wrote from my perspective, I think I'd sound like a brat. I believe it's important to keep your scope wide.
What else has been inspiring you this year?
Ginesse: Honestly, my friends. I'm inspired by the way they've all kept going, and they've all done it with a strong, sweet attitude. Seeing my friends fight for their rights this year has made me rethink so much in my own life. I'm so proud to have so many badass women in my life.
What has been one of the biggest challenges in your career?
Ginesse: The biggest challenge has been getting over my ego. I'm so scared to be rejected and so I've hidden so much of myself. I think we are all our own greatest obstacle.
How do you stay motivated, especially in a year like this year?
Ginesse: By admitting I'm not motivated all the time. Giving myself the chance to rest has been life-changing. I feel like everything I do is more intentional now.
What's your best piece of advice for young women? 
Ginesse: Always trust your gut. I believe that all women have a special intuition that can sense predators from miles away. Trust it!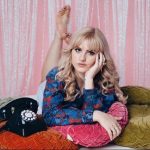 Emily Treadgold