GRAE'S voice is so haunting and beautiful we can never get it out of our heads. She's quickly become one of our favorite up-and-coming artists. Her new EP "Permanent Maniac" is her love letter to Robert Smith from The Cure, and she honors him so well. The song and the accompanying video are such a vibe. We talked to her about the new video, what's been inspiring her lately, and how she's been practicing self-care.
How did you get started in music? 
GRAE: Music has been a part of me since I was a child. I was surrounded by all the music my dad grew up with, as it was always playing in the house. I developed a real fascination with it when I first heard Janet Jackson's "Rhythm Nation" album. I remember walking around as a six-year-old with the CD in my hand, begging my parents to play it. It was around this age when I started to play around with my brother's plastic toy piano and he told me "whenever you want to get your feelings out, play this". At age 10 I got my first guitar and wrote my first "song". I started singing at talent shows in elementary school/school assemblies, and was one of the lead singers in grade 8 for my school's "School Of Rock". I knew when I got my first guitar that music is what I wanted to do, and I had my parents' full support through it all. When I got a bit older 17/18/19 that's when I really started trying for myself in music. I spent most of my days in my bedroom writing. I then traveled to Australia when I was 18, where I lived with my sister for almost a year, and did a few gigs there, my first "real" gigs. After I came home from Australia, I created my first EP "New Girl" and now, here I am! 
Tell me about "Permanent Maniac" what's the story behind the EP?
GRAE: A majority of this EP was about healing for me. The song "Permanent Maniac" aside, the rest of the songs touched on topics of toxic relationships, rushing into things, falling for someone online. Through the writing process, I really got to dissect my feelings and how I am in relationships, and what kind of people I tend to go for. It was a real moment of realization for me if I'm being honest. This EP helped me get a lot of my feelings out (as does every song I write) but it was extremely therapeutic. I'm more self-aware because of it, and have definitely set my standards for relationships much higher. 
Tell me about the music video, what was the vision behind it? 
GRAE: The vision for the music video was to have me in my room trying to write a song, frustrated that I couldn't find inspiration until I found it in my 'Robert Smith' poster. Iris Kim & Priya Howlader really brought this idea to life and nailed it. It's my favorite song and video to date. I'm so happy with how it turned out. I love Robert Smith a lot, my obsession started when I was a teenager, so having a music video with drawings of him everywhere made me super happy haha! 
Has it been hard to find inspiration/work during the pandemic?
GRAE: At the start of the lockdown, my inspiration was at its peak. That's when I wrote 'Permanent Maniac' actually. I was so in my head, stuck in a room with all of my thoughts, couldn't see anybody. Was just me, myself, and I. So I used that time to really sit with myself and write. Now, I'm finding it a bit harder, as we've been stuck like this for months. But inspiration comes at the most random of times! 
How have you been practicing self-care lately?
GRAE: The last few weeks I've been meditating for an hour in the morning, an hour at night. Making sure I go to sleep on time, getting up early, going on a run, walking to the park. Taking care of my body and mental health is very important to me. I find I can get very out of whack super easily if I don't have a schedule in place. Mindfulness is something I'm very into at the moment, and it's definitely a lifelong journey. 
What has been one of the biggest challenges for you in your career?
GRAE: I'd say overall, being underestimated or second-guessed because I'm a woman. I think the industry still has a ways to go for gender equality. 
What's your best piece of advice to young women?
GRAE: Always follow yourself and your dreams. Trust your intuition and don't let anyone make choices for you. Keep your head on your shoulders, be proud of who you are, and know that you can do whatever it is you put your mind to. You can create the life you want to live.
Listen here and follow GRAE on Instagram and Spotify to stay tuned.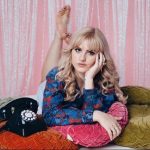 Emily Treadgold