Holly Humberstone's style of pop has so many layers, but her authenticity always shines through. She just wrapped a tour with Lewis Capaldi that had her performing for a crowd of 12,000 people. She's easily one of the biggest up-and-coming acts right now. We talked to her about "Falling Asleep at the Wheel," and what we can expect from her upcoming EP. 
How did you get started in music?

Holly: I grew up in a really artistic household and was encouraged to be creative throughout my childhood by my parents. I used to take piano lessons in primary school and I used to write little songs and I guess I never really stopped! I'm always finding little songs I wrote when I was probably about seven in old notepads in my house, they're obviously not good at all but pretty amusing to read. 

What would you consider a turning point for your career?

Holly: I'd say the turning point in my career was probably when I decided to upload some demos I'd recorded in my bedroom to a site called BBC Introducing. I was able to get national airplay and I met my manager that way. I never really thought much about doing music as a career it just kind of happened that way after that. 

Tell me about "Falling Asleep at the Wheel" what's the story behind the song? 

Holly: I wrote that song with my friend Rob Milton at my childhood home which is falling down a little and in the middle of nowhere. We decided to set up a little home studio for a week last summer in one of the rooms and that's when we wrote falling asleep at the wheel. It came pretty naturally and it was really cool to write and create in the house I grew up in. I feel like you can kind of hear the weird and wonky sounds of the house within the track. Perhaps the setting is why the song was such a milestone track for me and feels so much like me. 

What was it like opening for Lewis Capaldi? 

Holly: Touring with Lewis was honestly one of the coolest experience ever. I'd never played crowds of half that size let alone perform abroad so it was a huge learning curve for me as you can imagine. I played all my sets on my own so it was pretty terrifying but I think my confidence in myself has improved a lot since the tour. Also just seeing how well Lewis was doing was pretty inspiring and just made me want my own massive tours someday. 

What can we expect from your upcoming EP? 

Holly: I've been working so hard on this EP for so long to get it right, and it's now sounding so much like me, and sonically exactly where I want to head with my music. The songs are very special to me and I can't wait for people to hear them. I try and make my music as personal and as honest as possible so I'm looking forward to being able to connect with people in that way. 

What has been one of the biggest challenges for you in the music industry?

Holly: I'd probably say the hardest challenge I've faced with music so far is having a lot of self-doubt and comparing myself to others. It's so so easy to do and I think every artist is probably guilty of it. I've come to realise over time that it's really unhealthy and it actually stops me from being as creative and productive, so there's really no point in worrying about that sort of thing! 

What's your best piece of advice for young women? 

Holly: My best piece of advice would be to trust yourself and your instinct. You know yourself the best and what's good for you and what isn't. Don't spend your time worrying about other people too much, just focus on you and you'll be great!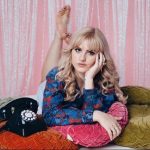 Emily Treadgold