Jake Naroden and Maya Morrison have joined forces to bring us a soft alternative rock experience full of unique indie aesthetic vibes and feelings of midnight overthinking. With the rise of indie bedroom pop and the return to emo-indie culture, which can be heavily attributed to sensationalization online, Peaceful Planet is falling into the perfect landscape to receive a warm welcome.
Peaceful Planet music centers around its roots in traditional pop-punk and a graceful feeling of a soft, protective atmosphere. Any song of their debut EP "Moon Phases" proves instantly that they have a steady grasp on the sound they want to create.
Their inspiration can be heavily attributed to the likes of Paramore and Modern Baseball, but that sort of early-2000s nostalgia is absent from their sound, making Peaceful Planet perfect for the modern-era indie kid. During quarantine, it feels surreal to imagine a crowded basement show with dizzy string lights dipping off and weaving between the support beams of a dimly lit room. However, Peaceful Planet's latest EP release feels reminiscent of that exact moment when you look around at your friends, who are probably crammed onto a shabby little couch, look back at the band playing, smile at the drink in your hand and think "I am warm here. I am safe here."
And that is the feeling we are all craving right now a little too much.
Most notably from their EP is the track "Coffee", which is not only full of echoed vocals, but is sweetened with lyrics about being lost in a non-existence future and unfulfilled dreams. The song takes listeners through a day of confusion and longing, almost a sense of hopelessness.
Much more of Peaceful Planet's discography reveals similar themes of longing, heartbreak, loss, and complacency. It's both music to binge and music to make your own as every song seems to be both deeply personal and so broad that it can be safely applied to anyone's own struggles. Peaceful Planet strikes that balance in music that is so soothing it's dangerous.
This vibrant band full of metaphorical lyrics and striking realizations is a duo you need to hear to believe.
Follow Peaceful Planet on Spotify and Instagram to stay tuned.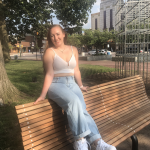 Alex West
I have a split in fangirl tastes. On the one hand, the moment One Direction announces a reunion tour, I will empty my bank account to go. On the other, I'm mourning the loss of Warped Tour. Recently, though, life for me has been all about traveling, watching shows, and writing. It only seems natural that I would find my way to the tour life since my mom raised me on Rick Springfield and NKOTBSB.I'm a big believer in fangirls and the influence we have in the world. As a political science major, I try to find that slant of empowerment in everything I do and know that music can change the world.