A Spotify binge had me stuck on Jae Stephens one night, I ended up looping  "got it like that" for about a week before I could even listen to her other songs. I was just that obsessed, there's something about her music that's so effortlessly cool. Each of her songs puts you in a specific mood and she has such an ear for a perfect melody. We talked to her about her writing process and why she recommends feeling burned out.
How did you get started in music? 
Jae Stephens: I've been singing and writing since forever but only began posting covers and original music online when I was about 15. I gained a bit of a following from there and since then it's been nonstop writing and recording. I'd like to think I'm still getting started honestly.
How did you find your sound? 
Jae Stephens: I'm still finding it honestly! I've always gravitated towards music that sounds like a setting; music that feels like something you should be listening to while driving, or getting ready for a late night out. For me the mood of a song all lies in the melody, so that paired with a really haunting chords or bass line are things that make my ears perk up. I love moody things that make me want to move.
What's your writing process like?
Jae Stephens: It varies from song to song but typically I love going off the back of whatever instrumental or beat I'm writing to - everything from the melody to the subject matter is influenced by what I think the beat feels like. And I almost always start with melodies first! They come to me so much easier than lyrics - once I've got an infectious melody I find that everything else falls into place.
What has been one of the highlights of your career?
Jae Stephens: That would be a tie between going to Germany to film a Colors Berlin session and doing a BBC Xtra Live Lounge in London - I'd followed my favorite artists on both platforms for so long and had always wanted to do my own Colors session and be a part of live lounge, so actually getting to see how all of it was done was so exciting!
What has been inspiring you lately?
Jae Stephens: I think a lot of creatives have been finding it pretty hard to stay inspired being locked in the house during this time. About halfway through lockdown I decided to stop running from all this idle time and start writing about it - how sad and lonely and useless it all felt. It sounds depressing but it was a different approach that's really helped me try new things when it comes to writing. I've also had a lot more time to listen to more new music as well, which is always helpful.
What has been the biggest challenge for you as an artist? 
Jae Stephens: Staying motivated has always been a tough one for me! I'm an emotional Cancer that takes everything way too personally, which is so not ideal in an unpredictable industry with so many setbacks. But I'm working on it!
What's your best piece of advice for your younger self? 
Jae Stephens: It sounds backwards, but allow yourself to burn out. I feel like I always have to be working, be busy, be occupied with something, be making visible progress. Sometimes it's good to just stop, feel sad for a few nights if you need to, and pick things back up in a couple days when your head is clear. Things always feel better in the morning (typically).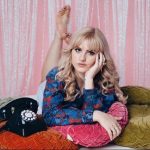 Emily Treadgold