I was so excited to interview the angelic Jamie-Lee Dimes at SXSW this year, unfortunately the world had different plans, but stranded in Texas, she decided to make a gorgeous music video about creating change in the South. With her poetic lyrics and ethereal voice, she's definitely one to watch. We talked to her about the challenges she's faced and what's been inspiring her lately.
How did you get started in music? 
Jamie-Lee Dimes: I've been doing music since I was a kid! My dad would play music and teach me the guitar. I took lessons in my teens and then went to music school. I was always in school choir, or dancing, or singing, or going to drama classes. It feels like the most natural thing I know.  
Tell me about your song, "Virginia." What's the story behind it?
Jamie-Lee Dimes: I wrote "Virginia" in 2017. I was living in New Jersey at the time and woke up to see the news of the unite the right rallies in Charlottesville, Virginia. It's not every day that you wake up to white supremacists chanting Nazi rhetoric – at least I thought. Lately, the news has been pretty disturbing. "Virginia" is a glimpse into something that is now not even questioned – it's commonplace. It's sad that although I wrote this song three years ago, this is still an issue. It's time to end discrimination and racism. No one is better than anyone else. 
What inspired the music video? 
Jamie-Lee Dimes: SXSW had just been canceled, and I was in Texas. My flight to Australia had been canceled. I needed to channel my uncertainty and make art. We just went out to a town called Italy, Texas, and used Wim Wenders' Paris, Texas, film as inspiration. It's built around the idea of waiting for change in the deep South, while we repeat the same mistakes from history. 
What has been one of the biggest challenges for you in the music industry?
Jamie-Lee Dimes: Many things. Sexism, the highs and lows that come with this industry, and my own emotional purges of creating and being an artist. People undermining my abilities, or hyper focusing on my flaws, or taking credit for my hard work and sacrifice. 
I'm trying to be more kind to myself. When I started touring and finding my voice, people I thought were close to me started trying to sabotage me and bring me down. That has been the biggest challenge for me, but the beautiful thing about music is that it helped me find that voice and step into my own strength when I was in some of my lowest moments. No one can ever take that away from me.
How have you been staying sane during 2020 in general?
Jamie-Lee Dimes: Well, I started 2020 off with a fever on the couch alone after finishing a two-and-a-half-month-long month tour in Australia, USA, and NZ. A week later, Australia was in a frenzy over the bushfires. The whole country was a disaster. It was scary and we were all in survival mode. A couple days later, I started gearing up for SXSW, came over to the USA early, and was so pumped to have everything I worked hard for unfold. Then the pandemic hit, and SXSW and my tour were canceled. I drove across America alone after that and moved into an apartment in LA to quarantine. I've been here since. 
Despite all of that, my drive to create hasn't really changed. That's how I've been staying the same – I've been writing, learning, and recording. I recently got back from the desert, where I was finishing up my album with the bandmate I was in Texas with. The protests started soon after, which I joined, in the same week that I started studying sociology—crazy times.
What's been inspiring you lately? 
Jamie-Lee Dimes:  Mexico is always an inspiration. I've been taking ballet classes and Spanish classes at a school in Mexico City. A lot of my friends live there too. I've been listening to a lot of old blues music, playing slide guitar, and learning about the institutions that form society.
What's your best piece of advice to young women?
Jamie-Lee Dimes: Don't lower your standards. Don't surround yourself with people that don't appreciate you. Spend time alone. Reflect on issues that come up. Don't let anyone tell you that you can't or shouldn't do something. It's better to try and learn from failure after giving it your all than stand still in the name of fear or other people's judgments. You'll grow. Follow your gut and trust yourself.
Follow Jamie-Lee Dimes on Instagram and Spotify to stay tuned.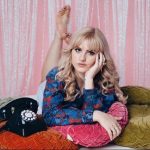 Emily Treadgold