Jareth's velvety voice combined with sweet melodies is the perfect combo on "Amber." The song feels like a spell, it's captivating and mysterious. We talked to Jareth about the song and the challenges she's faced in her career.
Jareth! How did you get started in music?
Jareth: My cousin Joy went to college with a guy who had a cousin called Joe. Joe is amazing, and he single-handedly erected a studio in his council flat down the road from me in Wembley. Funnily enough, the studio is featured in the background of my first ever music video, 'Pathway'. Youth clubs were dwindling down at the time and as young people, we needed legal creative outlets. Music became mine and I spent most weekends and weeknights hanging out at the studio developing writing and vocal skills for fun/therapy. I was discovering a part of me that I didn't know existed and that excited me for years to come.
Tell me about your song "Amber" what's the story behind it?
Jareth: Awakening on any level is definitely a theme for me in all my creative works. 'Amber' is about waking up to an anxious reality where the only thing grounding you is love. Getting lost in its seductive labyrinths, you can forget you are actually being trapped. That is essentially the 'Amber' experience - ethereal entrapment.
Tell me about working with Gent Mason, how did the collab happen?
Jareth: Well, I have been involved in music for over ten years now. In the sea that is the industry, when you have been floating about as long as I have, you sometimes create waves that others catch. Gent caught my sonic wave and it happened. Also, in short, managers connected with other managers, and their artists remotely mixed ideas; the internet is very useful.
What else has been inspiring you lately?
Jareth: The moon and its resilient ability to not be captured by my iPhone. Annoyingly it has been blowing my mind for a while now. One day I'll get that moon shot!
What challenges have you faced in the music industry and how have you overcome them?
Jareth: The biggest challenge I have faced in this industry is myself. Artists are complex beings. It is our ability to step outside of the box in order to create organically that in fact alienates us from functioning 'normally'. I have had to face and examine all the pieces of me and it's uncomfortable navigating what feels like a masquerade ball, metaphorically naked. I have thankfully overcome my plight by accepting that I'm a mental nudist and that's ok.
What's your best piece of advice for your younger self?
Jareth: Take more naps, explain yourself less, and carry on as if you are seeing perfect.
What's coming up for you this year?
Jareth: More rest, to allow more dreams to inspire more ideas, to make souls smile. That's the plan, but I am sure that life has other ideas. Plans are so ambitious, so it's good to be confident. I've also got a new EP on the way called 'Fire in the Soul', which is exciting. I am working on me.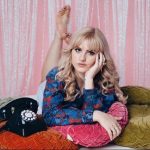 Emily Treadgold