jocelvn's "Carry On" EP is one of our favorite finds this year. Her voice is so sweet and her vulnerable lyrics feel like you're reading them straight out of her diary. She combines genres in a way that isn't overbearing or pretentious. It's just so pure and effortless, exactly what you want from a debut project. You know exactly who she is as an artist. We talked to her about how she got started in music, taking risks, and persevering.
How did you get started in music?
jocelvn: I grew up playing classical piano but never loved it, really. In middle school, I found an old guitar and taught myself how to play it by looking up chords and tabs to songs I liked. I was incredibly inspired by John Mayer's musical genius and practiced a lot of his songs. At the same time, I started songwriting (probably nothing good though) to the chords I was learning. I fell in love with playing improv piano and songwriting on the piano as well. Music remained a passion of mine but took a backseat in high school and college as I was focusing on my education. I never stopped songwriting, but the most I would do to share that was recording memos on my phone of me with a guitar or at the piano and posting it for my friends or performing at super small school events. Just this year, with some encouragement from a few friends, I decided to invest more serious thought into releasing music and fulfilling that passion of creating fully-realized tracks and putting them out there for the world to hear.
Tell me about "Carry On" how did it all come together?
jocelvn: I think every songwriter experiences the fluctuation of sometimes trying to crank out a song and working on it for a long, long time, but sometimes a song will just come naturally and is finished extremely quickly. I wrote "Carry On" on the guitar in maybe thirty minutes. Something had happened just that day -- I received a text from someone I didn't want to -- and I was immediately inspired to write the track. I reached out to the producer of one of my favorite modern R&B tracks, doubting I would ever receive a response, but he reached out to me shortly after saying he loved the demo. We got together virtually to work on the track remotely. The beat drop you hear in the chorus is something he said he heard from the beginning just from listening to the bare bones of the melody I wrote. I'm still geeked about this collaboration. (He will remain uncredited on my song.)
Is there a particular song that was especially hard to write?
jocelvn: I wouldn't say that "More Than I Should" was hard to write, but as you can see, I included two versions on the EP. The stripped version is how I wrote it almost exactly on a piano keyboard while I was in Taiwan in December of 2019. The demo was written from almost a sadder and more uncertain place, and the lyrics felt very raw at the time. The production version is still chill but rather more upbeat and optimistic-sounding. I think it encapsulates both the sonic evolution of the song in transforming the demo into a polished song and also the progression of how this particular relationship played out. I wanted the production to be more feel-good, and I love how it turned out. I went back and listened to the demo afterward, though, and realized how different the two versions not only sounded but felt. I just knew that I had to record a stripped version and include it on the EP.
How do you feel about having your debut project in the world? 
jocelvn: It feels really good to have taken that first leap. The way I operate once I set my mind to something is to just go for it at full-speed. A lot of (very smart) new artists spend a good amount of time preparing, strategizing, and then releasing their debut projects, but I just do not have even a fraction of the patience for that. I tried to give myself a year or more to release even just a song or two, and found myself with six completed tracks after three months. I know there are pros and cons to rushing to release, but I had to just throw it out there, completely acknowledging that I have tons and tons of space to grow from here.
What has been one of the biggest challenges for you in your music career?
jocelvn: Because I only recently started doing music and moved so quickly, I essentially started out with no creative network and no pre-existing fanbase aside from some supportive friends and peers from school. I didn't really have music friends and basically set out to learn this industry by myself. Trying to get your music heard nowadays is extremely hard. Learning all the tools you need to use to do so is also hard. Being an independent artist means being your own musician, marketing strategist, social media manager, digital artist, manager, writer, and more. I juggle all these with no prior knowledge and also work a full-time job as a software engineer. I've learned a tremendous amount and still feel clueless, honestly.
How have you been staying motivated to create in 2020?
jocelvn: A big reason I decided to pursue music in some capacity this year is because of the sudden nature of the pandemic outbreak. I had already been thinking about what music meant to me and whether or not I wanted to give it a shot, but when covid-19 broke out, it really put things into perspective for me. Super cliche but... life is unpredictable and you may as well go for it while you still can. Certainly, the pandemic has made everything exponentially harder, but for me, it also has given me more reason to persevere.
What's your best piece of advice for young women? 
jocelvn: Be unapologetic for who you truly are, and give yourself a shot at whatever it is you want to do but are already telling yourself you cannot do.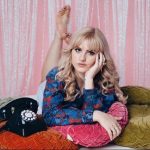 Emily Treadgold