Joy Kate has a honey-soaked voice that carries over her synthy pop sounds and her authenticity really shines through. You can tell she really knows exactly what her audience needs to hear and it all stems through her personal experiences. She's definitely an artist to keep on your radar. We talked to her about her song "Body" and how she got started in music.
How did you get started in music?
Joy Kate: Music has always been something I have been super passionate about, and I knew from a young age that it was something I was very connected with and wanted to explore on a higher level. I can remember writing songs in my backyard as a kid and then winning a songwriting contest at a summer camp when I was ten years old that led to an opportunity recording my first original song in a studio called "You're a Hero" about anti-bullying. I continued to love, grow, and develop this craft as much as I could after this experience because I realized our voices are so powerful, and we need to use them to make an impact.
Tell me about your song "Body" what's the story behind it?
Joy Kate: I wrote this song and decided to release it as my first release while in college. I thought it would be a good reminder to myself to not settle for bad relationships or interactions with people who wouldn't love and respect me the way that I am. "Body" relays the message of wanting to find deeper emotional connections with good people and not settling for "someone who will make you change" or anyone who might not treat you with kindness and respect. My heart doesn't work that way, personally, so this reminder was very important to me.  I wanted to send a positive call to action to my listeners to keep searching for the one(s) you can't replace!
You graduated highschool at 16!!! That's so impressive! Do you think that gives you an advantage?  
Joy Kate: Thank you! I was so motivated to pursue my dreams and worked extremely hard to graduate early with 21 college credits under my belt. I have a passion for academics and believe that in order to be a good communicator and the best possible songwriter, I need to know and soak up as much knowledge as I can. I think graduating early definitely gave me a headstart academically, but emotionally I am still finding myself like any other teenager. I just started NYU Tisch Clive Davis Institute of Recorded Music, and I'm so excited to continue to grow as a person and creator.
Why is it important for artists to understand production/mastering along with songwriting?  
Joy Kate: When communicating my ideas, I love to be able to express myself to my fullest potential, and I don't feel like I can do that without knowing everything about production, engineering, songwriting, etc. In the long run, increasing my knowledge about all aspects of song production will make me more confident as an artist.  Ultimately, I will know that I can produce on my own if I need to, or I can communicate my artistic vision with the proper terminology to the producer or engineer to achieve a piece of art I am proud of and that represents me entirely. 
What has been keeping you motivated lately? 
Joy Kate: It was definitely hard to find a creative groove during quarantine, but as soon as I started writing, I couldn't stop. This is a very crucial time in history and writing has honestly been the best way to express myself with negative or positive thoughts that I may be having or seeing other people experience around me. School starting back has also kept me motivated and sparked a new creative side as well.
What has been the biggest challenge for you?
Joy Kate: The biggest challenge I have faced was bullying in middle school and high school. People didn't understand why I was doing what I was doing, and I encountered a lot of negativity. I eventually stepped out of the norm leaving traditional school behind which benefited me in the long run because I was able to move at a faster pace with my academics and really focus on music development. Although this challenge was overwhelming at the time, it helped put me on the path that I am on today. 
What's your best piece of advice for young women?
Joy Kate: Don't be afraid to step out of the norm and follow your dreams and passions because when you truly take risks and are uniquely you, that's when the real magic and creativity will happen. The world definitely needs more unique creators and thinkers! 
What's next for you? 
Joy Kate: Aside from "Body," I have multiple releases lined up for this year, including a very special music video I am so proud of which will release in October. I will continue my education at NYU, while also songwriting and collaborating with as many people as I can find.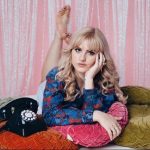 Emily Treadgold