I love the concept behind Juliette Reilly's new song "Married." I turned 29 this year and I've noticed almost all of my friends settling down in their lives. The music industry is a tough bitch and calls for a life living for yourself and your career. It's something a lot of people don't understand and I'm so glad I have this new song to turn to. Juliette's fierce energy just radiates throughout this song and it's such an important message for everyone who doesn't give in to society's rules of where you need to be in life. We talked to Juliette about her new song, her anti-bullying advocacy, and her best piece of advice.
Juliette! How did you get started in music?
Juliette: My aunt is a Broadway actress and I grew up seeing her in shows and wanting to perform like her. She really inspired me to know I could pursue a career in the arts. I started writing songs when I was 11 which began as journal entries/poems to help me deal with being bullied in school. Then in 2015, I started a YouTube channel of covers and original songs.
What was a major turning point for your career?
Juliette: The first video that really took off was an original anti-bullying anthem called "Hero" which I wrote to my younger self, and it ended up inspiring a lot of kids/teens who were struggling with bullies. I had fans send in clips of themselves singing the song, and I think they really enjoyed being a part of it and sharing this collaboration with their friends.
Tell me about your song "Married" what's the story behind it?
Juliette: The idea for this song started as a joke with one of my friends who had just recently gotten engaged. I'm about to turn 27, most of my friends are in serious relationships, engaged or married, and I'd be lying if I said I didn't feel the societal pressure to "settle down". I was telling her how happy I was for her and then started cracking jokes about how I don't need to get married because I'm focusing on my career and am gonna make all this money (spoiler alert: I didn't). But then I started to realize that it was true. There's a huge part of my that loves my independence being single and making decisions only for myself. I was able to harness that "bad-bitch" energy into this song. I felt it was important to empower women of all ages to understand that it's okay to put yourself, your interests and your career ahead of a man or your family. In our society that is still so uncomfortable for many people to wrap their heads around. Like, yes, I want to be loved and have a family, someday, but that doesn't mean I can't enjoy my freedom, my friends, and making moves in my career right now.
What has been inspiring you lately?
Juliette: My fans continually inspire me. Hearing all their stories in my DMs about life, loss, love, struggle, anxiety/depression, etc. help me to feel less alone and remind me that I have a mission to empower others and keep writing music for them.
I love that you're an anti-bullying advocate, why are you so passionate about that issue? 
Juliette: I was bullied in middle/high school a lot, and so was my little sister. Kids made fun of the way I looked as an awkward pre-teen, and then in high school, they made fun of me for doing theatre/writing music and for having anxiety/being sensitive. Then, when I started growing a following, the level of hate comments and negative things said about my appearance was both overwhelming and traumatizing for me. What I've learned since getting older is that everyone has something they've been bullied or made fun of for, especially today on social media. I also want to normalize opening up about our insecurities, de-stigmatize mental health issues, and help people feel less alone by talking about my personal experiences with it.
What's the best way someone can deal with bullying in your experience? 
Juliette: There's no shame in reaching out and asking for help. From teachers, guidance counselors, friends… tell someone. Also, talking to a therapist can be really helpful for your personal growth and to see that whatever you're going through is only temporary. It can be hard when you're in it to focus on anything else, so reaching out to your support system is critical.
What has been one of the biggest challenges in your career?
Juliette: I went through a pretty major breakup with another YouTuber about two years ago. We worked together a lot, so it was extremely difficult on that level, plus our fans were used to seeing us together and were heartbroken with us when it ended.
What is your best piece of advice for young women?
Juliette: Get quiet and listen to your own voice, even if it's a whisper, that reverberates inside when you tune out all the other voices around you. Trusting myself is the toughest and most important lesson I've had to learn in my life so far. But now I've built my life around listening to that inner voice, however small. Whatever works for you personally to get still & listen: meditation, walking, listening to music, dancing in your mirror, journaling, etc. Know, above all else, you CAN be your own hero.
Follow Juliette on Instagram and Spotify to stay tuned and watch the new video now.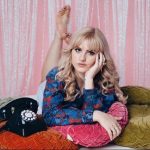 Emily Treadgold