Kayla DiVenere's song "Date Myself" is the self-love power anthem we all need. Her confidence radiates through her voice and you can just feel the energy through the music. We talked to her about the new song and her solo date ideas.
How did you get started in music? 
Kayla DiVenere: I've been involved with music for as long as I can remember. I just didn't think of it as a career until later on. My dad was a drummer as a teen and played in a rock band, so he introduced me to the classic rock records that had inspired him. He always made it such a point to show the power of music and how beautiful it is to play an instrument and be able to express yourself through song. He randomly brought home a piano when I was really little, and ever since then, I've been hooked on the music world! 
I first started making my own music when I was 13 when I overheard my brother writing a song in his room (we're a very musical family). It hadn't occurred to me until that moment that songwriting isn't only for the Taylor Swift and Katy Perrys of the world — anybody can be a songwriter! Music belongs to everybody, and that's a beautiful thing to realize. My brother and I started doing a "sibling battle of songs" where we would see who could write the best song every week — it really helped with my songwriting skills, haha! 
How does your acting career inform your music? 
Kayla DiVenere: Being involved with both acting and music is definitely a really cool crossover. They're both so similar, yet so opposite. The biggest thing I've learned from doing both music and acting is to honor my vulnerability. 
Tell me about your song "Date Myself." What was the inspo behind it?
Kayla DiVenere: I'm so excited that "Date Myself" is finally out!! I blurted the phrase, "I kinda wanna date myself," one day while ranting to my mom about all the horrible dates I've been on. I knew from the moment I said it out loud that it could be turned into an anthem for everyone going through the endless treacherous dating cycle of constantly being let down. Writing "Date Myself" reminded me of how beautiful it is to spend time by yourself and how important it is to be comfortable owning your self-love and high standards. Being able to hear it back after writing it and to scream it at the top of my lungs has comforted me more than any guy has, and I hope it can comfort people too, in any way they can relate to it. 
What is your best solo date? Give us a suggestion!
Kayla DiVenere: I personally love treating myself to a day of matcha, thrifting, and journaling. I also love having a cozy night in watching old movies! 
What else has been inspiring you lately?
Kayla DiVenere: I've been very inspired lately by the classic and timeless feel of The 1975's music.
What has been the biggest challenge for you in music? 
Kayla DiVenere: The biggest challenge I've faced in music has been trying to make the kind of music I want to make and now letting other people dictate the music they think I should make. I've made it a big point this past year to focus on being 100% authentic to myself and making music that I love instead of what other people tell me I will love. So far, doing that has made me the happiest girl on earth, lol! 
What's your best piece of advice for young women? 
Kayla DiVenere: My best piece of advice for young women would be to stick by each other and power through together. Being a young woman can be so difficult. There's so much that can hurt, go wrong, and disappoint us, but I encourage us all to continue to grow and change, work on ourselves, and stick together as we navigate the world.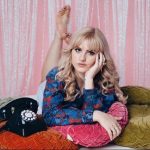 Emily Treadgold