If you have not yet heard of her, KiNG MALA is an alternative pop singer/songwriter who hails from Los Angeles. Her moody and sultry vocals, as well as emotional lyrics, have garnered much attention. Her recent single, "If I Try to Find You" is a reflective and honest look into the singer's mind, successfully showcasing her unique vocals and effective songwriting style. KiNG MALA is shamelessly badass and cool; the perfect addition to your confidence boost Spotify playlist. We spoke briefly to the rising singer/songwriter to discuss her background, recent single, as well as upcoming projects. 
You elicit such strong emotions through your moody, alternative vocals. What was your process like in finding this vocal/musical style? 
KiNG MALA: I think it all comes from the musical influences I grew up with. I listened to a lot of classic soul, R&B, blues and alternative rock growing up which all have very unique tones and inflections vocally. I've always been drawn towards a more soulful approach to singing.
How did you discover what kind of artist you wanted to be, and what was the journey like for you to get to where you are today?
KiNG MALA: I feel like I am still on that journey honestly. I really just follow my gut, and trust that when I feel drawn towards something it's for a reason. I spend a lot of time looking at the artists I love and trying to decipher what makes them unique, and I let that influence me in my decisions when it comes to my own artistry. 
Who are some of your biggest musical influences and inspirations? Also, who would some of your dream collaborators be?
KiNG MALA: Musically, I am constantly finding inspiration everywhere from Ray Charles to SZA. Some artists I really look towards are Mac Miller, Frank Ocean, Phoebe Bridgers, Joji and Donna Missal. I generally like to take little bits of all the music I like and combine it in my own way. A dream collaborator of mine would be Halsey, I think she is such a complete artist both musically and visually it would be amazing just to pick her brain about everything. 
"If I Try to Find You" gives such an honest look into your mind and emotions. What is your songwriting process? Do you find it sometimes difficult to delve into your personal life for your craft?
KiNG MALA: My songwriting process is constantly different but I always let the feeling that the music gives me dictate what direction I want to take it in. For "If I Try", the song gave me a bittersweet feeling, like remembering something you once thought foundly of but now you are just angry. Sometimes it's difficult for me to think about releasing certain songs. "If I Try" was one I had to think about a lot, but as far as writing them in the first place, I sort of live in my deeper/darker emotions so it's not too hard to tap in. 
Can you tell us about any exciting upcoming projects that we can expect from you this new year?
KiNG MALA: I have spent the last year writing non stop and there are so many songs that are coming this year that I am WAY too excited about. On the immediate horizon, I'm releasing a music video for my song Funeral on January 22nd and I'm really excited for everyone to see this one. 
Now that you've added KiNG MALA to your Spotify queue, and streamed her new single, "If I Try to Find You," be sure to stay tuned for her upcoming music video on January 22nd! And remember her name, since this will not be the last time you hear of her.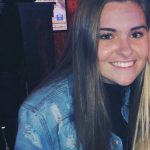 Grace Kuraska
For as long as I can remember growing up, music was constantly blasted throughout the house. My parents' love of music introduced me to pop and rock idols and icons of the past, setting me up for a life of fangirling over a confusing range of artists, from Fleetwood Mac to One Direction (still mourning the loss of the latter). I could spend hours at a time binge listening to albums, and researching new artists. Follow me on insta @gracekuraska.