Kit Major's new song "God Complex" has all the angst and edge we love in music and when crossed with her commanding vocals and honest songwriting, she's definitely an artist to keep your eye on. We talked to her about the new song, what's been inspiring her lately and the challenges she's faced in her career.
How did you get started in music? 
Kit: I started writing at an early age. It began as a way for me to process emotions and express how I'm feeling and from there grew into a love for storytelling.
Tell me about your song "God Complex" -- what's the story behind it?
Kit: It started with a pack of Stellas...I wrote "God Complex" with my best friend & collaborator, Noël Dombroski and it might be one of my all time favorite songs so far. We wanted to write a song that had remnants of the grunge sound we both love and ended up creating our own existential (and extraterrestrial) rock anthem.
What else has been inspiring you lately?
Kit: Getting ready to perform live shows again! I've got my first live performance with my band coming up on December 2nd at Junior High in Los Angeles for my EP Release show. It'll be a new sound from how I've been performing in the past!
What has been one of the biggest challenges in your career? 
Kit: I think the reliance on TikTok for audience reach. Music is how I get out of myself (I can get very shy and in my head!!) so it's been a personal challenge and goal to conquer being in front of the camera.
What are some of your favorite artists you've been listening to lately? 
Kit: Amyl & the Sniffers, IDLES, King Gizzard, along with The Monkees (I realized I didn't know much about them and have been diving into their history).
What is your best piece of advice for young women? 
Kit: Write what you want to hear. Trends and sounds come and go but when you put your own taste first, your sound will come together naturally.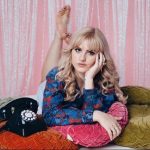 Emily Treadgold