Lani Renaldo has a sultry voice that instantly hooks you. She writes with the intention of being utterly relatable and it truly bleeds through the music, you can feel her emotions.  We talked to Lani about "Love Games" and her upcoming EP.
How did you get started in music?
Lani: I was born with a love for music! There was never a moment where music wasn't playing in my household. My dad is a percussionist, so we always had drums around the house. In fact, my earliest memory of music is starting to play drums at 3. From there, I started playing every instrument I could, teaching myself guitar, piano and bass. When I was 12, I wrote my first song and never looked back! It wasn't until I was 16 and went to GRAMMY Camp that I realized I could make music a career. I went to college and started learning about the music industry and started recording, producing and playing shows. All of this led me to being the musician (and person) that I am today.
Tell me about your song "Love Games" what's the story behind it?
Lani: "Love Games" wasn't supposed to be my track. I originally started producing the song for another artist, but the more I worked on it, I realized I had something to say. I was inspired by experiences within love and the idea that not only is love a game, but people love to play games within relationships - whether that's inconsistency with emotions or flat out ghosting someone after a hookup.
Anything you can tell us about your upcoming EP?
Lani: NOHEARTBREAK2020 is some of the best work I've made (in my opinion) and is a project I'm really proud of. It came together during a time in my life where I wasn't so sure about music and what I would end up doing within it. It deals with self-doubt, self-worth and sexuality. There are four songs on the EP that I wrote and produced on my own which really allowed me to connect to the music and put 100% of myself into it. I'm really excited about it and think that listeners are really going to enjoy the progression from "fake happy."
What was it like opening for Halsey at the Shrine? 
Lani: It was a great opportunity. At the time, the shows I was playing were about 100 cap. I went from playing to small audiences to 5,000 people over night. It was pretty surreal to perform at the Shrine and a memory I hold really close to my heart.
What has been inspiring you lately?
Lani: I've been really inspired by the culture. I think we're in a radical time in history - I'm always trying to figure out what my voice is within it. I'm really invigorated by my peers standing up and challenging oppressive systems, for what they believe, using their voices and being unapologetic with their gender expressions and orientations. I'm fueled by seeing impactful messages and using my network to expand conversations that could really change the shape of the future. It's kind of corny, but seeing people question the world around them and wanting to make it better than it could be really inspires me to use my voice.
What has been the biggest challenge for you in the music industry? 
Lani: The biggest challenge I've faced within music is getting people to believe in my work. With so many artists trying to make their dreams a reality, it can feel easy to get lost inside the mix. You really have to prove yourself and your artistry. Sometimes it hasn't been easy to make myself heard, but I've put in a lot of work over the years I've been doing this to create a fanbase and evolve and become more accessible to more listeners.
What's your best piece of advice to your younger self? 
Lani: Timing is everything! Human beings put a lot of unnecessary pressure on themselves due to expectations. Know that everything that is meant to happen, will happen, in the time that is right for you. Continue on your journey and believe in the work you're doing, the rest will work itself out!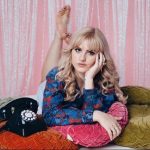 Emily Treadgold