As an Arizonian, I was soo excited that Taylor had her first stop in Glendale, AZ, so of course, I just had to battle the Ticketmaster war to see the concert on the very first day with my sister! I've been to her 1989 and Reputation concert, and NO ONE in the industry does it like Taylor.
It's both so nostalgic and so fresh to hear her sing songs from all the albums and hearing it live now as a young adult versus little old me back at my first Taylor concert. Attending the very first day was both so exciting and nerve-wracking, not knowing which songs were coming next. We shrieked and belted each song like we were 12 years old, especially when she sang our favorites.
It feels like it's been ages since I saw her perform, but whenever I see everyone's footage of her concert on TikTok, it's like I'm there all over again. Thank you, Taylor, for the most enchanted night!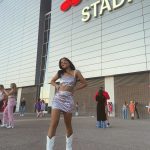 I'm Audrey Garcia, a newbie transplant to Los Angeles, originally from Gilbert, Arizona. I'm a creative both for work and for fun. I love taking photos, trying out new food spots, attending concerts and festivals, thrifting, and working out! Instagram: @audreyasmine TikTok: @audrey.garcia8