The universe creates a full circle moment for Taylor Swift and me.
Taylor came into my life when I was eleven. At a voice lesson, my voice coach said that the theme for the next recital would be country music. At the time, the only country artists I listened to were The Chicks. I told my voice teacher I wanted to sing "Not Ready to Make Nice," but she thought it was too political. My voice teacher made a suggestion. She said another one of her students had introduced her to Taylor Swift, and so far, three other students were going to sing her songs for the recital. "There's a song called 'Picture to Burn,' that would be great for you," she said to me.
My teacher showed me a youtube video of a montage of Taylor Swift photos, along with the song and lyrics itself. I remember liking it a lot. It was sassy, it was fun, and it wasn't the country music I was used to. I saw myself singing this sassy song about some stupid boy in my class. So I chose to sing "Picture to Burn."
I immediately went and bought Taylor's debut album and listened nonstop. "Our Song," "Should've Said No," and every song became the soundtrack of my sixth-grade experience. Soon after, Taylor released Fearless, and that became the soundtrack. With each album and each era, Taylor defined each season of my coming of age.
Flash forward, I'm 26. My mother survived the great war, and I have the privilege of attending the Eras Tour in Denver, CO, on July 14th. After screaming, crying, singing, and dancing for three hours, it's Surprise Song O'clock. I experience this moment only on Tik Tok Live, but the anticipation is far more intense in person. Taylor appears out of the darkness in a green dress, and she begins to tell a story.
"In the spirit of nostalgia," Taylor begins, "we should be exploring all the eras, including my first album," I scream like a feral animal. "This is 'Picture to Burn!'" Then I utterly give into my excitement in the most unhinged manner, and so do 73,000 other people.
"Picture to Burn" is the first Taylor song I ever heard. The song led me to Taylor, the songwriter who made me want to write songs. The songwriter whose lyrics I would read, analyze, and learn from in order to improve my skills. The artist who shows me, and the world, that artistry is not about genre but about sharing your truth and hoping that truth resonates with other people.
Of all the songs amongst hundreds in Taylor's catalog, she chose to sing "Picture to Burn" the night I was there as if she paid tribute to the beginning of our relationship. The universe pulled those invisible strings and orchestrated this moment.
The night itself was euphoric. It also felt like a reminder. A reminder of the origin of my love and passion for songwriting. This a reminder to nurture my creations in spite of the self-doubt that constantly plagues my confidence.
I want to thank every single person who traded bracelets with me, my mom, for spending the best day with me, and Taylor for creating a show that is equal parts a spiritual experience, a therapy session, and the spectacle of a million stars.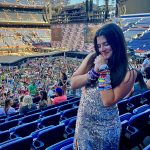 I'm Callie. Hi. I write songs, and I hope that someday, the songs I write will have the same therapeutic effect as Taylor's songs. I currently live in Nashville, where I read a lot of books, go on runs, work a day job to pay the bills, and play music with my best friends. IG: @calliecarlucci Tiktok: @calliecarlucci