Went to 4 concerts and now preparing to see her in Brazil!
So our tour came to an end but here is #whatyoumademedo Taylor:
4 shows
4 cities
4 outfits
13 hours of shows
13 000 miles ( ATX - A&TT- ATX - GRU -MCO - TAMPA - ATX - NRG - ATX)
Your eras tour was definitely a ThERASphy for me!
Our #invisiblestring story started Back in 200#seven when I used to hate you. Still, actually, I was jealous… those #delicate and #mean times passed I started to listen, relate and love all of your songs, starting with #our song. I even wanted to dye my hair blonder and learn how to play the guitar so I could play tears drops on my guitar because of you.
Taylor, thank you for being with me through all my #happiness and sadness moments. We grew together as a woman (also #madwoman) we became.
We are both #masterminds, never stopping pursuing our dreams and always wanting more!
Ultimately, going to these shows was about more than just the music. It was an accomplishment after years of hard work and being unable to see you up close or go to your other tours.
But definitely believe #youneedtocalmdown (actually, we both do)…sometimes! But honestly, we shouldn't worry. We will eventually find our #theman 😉
#Karma was definitely being able to see you 4x 🥹
Thank you, Taylor!
💜💜💜💜
#Stay beautiful!
#taylorswift #swiftie #erastour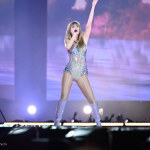 Carolina Caggiano
Brazilian swiftie since 2007!