M.A.G.S. has such an incredible sound and his Lost Tapes EP is a beautiful EP. It shows his talent for crafting vulnerable lyrics and relatable stories. It just feels like exactly what we all need to be listening to right now. We talked to the up-and-coming artist about what's been inspiring him lately and his best piece of advice for his younger self.
How did you get started in music?
M.A.G.S.: I was fortunate enough to be born into a family of musicians and artists, music has been a part of my life since I was young. I spent the majority of my teens at home playing along to my favorite albums and teaching myself how to record.
What would you consider a career-defining moment for yourself?
M.A.G.S.:I feel like I'm still really early in my journey as an artist. I think my career-defining moments are still ahead of me and I have a lot of work to do in the meantime. That said, moving to LA back in 2018 was probably the catalyst for all of the things that are happening now. That first year was rough though, not gonna lie.
Tell me about the inspiration behind Lost Tapes? 
M.A.G.S.: Lost Tapes is a snapshot of a time in my life when I had to re-learn who I was and face a lot of personal demons related to a past relationship.
What else has been inspiring you lately?
M.A.G.S.: I've been inspired by recognizing my own growth as a human. I can look back to who I was a few years ago and appreciate all the things I had to go through to get where I am now. That's a theme I'm working with for my new album
What has been the biggest challenge for you lately? 
M.A.G.S.: Finding inspiration this year has been challenging, to say the least. There are so many evil things happening in our country currently and it feels like there's no escaping it. Every morning I wake up and see injustice and racism against black people, including from our own government and it's hard to get motivated to work on creative stuff. Staying mad about racial injustice is a challenge, you think we want to be posting the same message every single day? We gonna be mad until we see the necessary changes though.
What's your best piece of advice for your younger self?
M.A.G.S.: You can't please everyone so don't move through life only trying to make other people happy. Learn to love yourself and the rest will follow.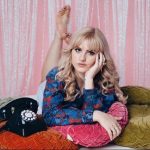 Emily Treadgold