Mabes has this dreamy voice and her music is like nostalgic pop. It transports you to another place and locks you in a moment, not to mention, her new music video for "Caught Up" is our dream aesthetic. We talked to her about the new video and what's been inspiring her lately.
How did you get started in music?
Mabes: I was always obsessed with music and performing, but when I heard Laura Marling's 'Alas I Cannot Swim album when I was 15 it inspired me to pick up the guitar and have a go at song writing.
Tell me about your song "Caught Up" - what's the story behind it? 
Mabes: The song was inspired by the restrictions that lockdown brought on seeing your loved ones. I know a couple that was separated for 4 months and could only see each other on FaceTime. The song is from the point of view of a lover that's missing her other half, and longing for the day when they are reunited, as that person makes all the bad things disappear.
I'm obsessed with the music video! What inspired it and why did you want to go in that direction?
Mabes: I wanted to do something different, to pay homage to the golden girls of the '60s country scene that paved the way for artists like me. I wanted to throw back to that era but contrast it with my modern sound. I wanted to show my younger audience where it all started!
What has been one of the biggest challenges for you in your career lately?
Mabes: I would say that the hardest thing has been dealing with trolls online. I've had to train my mind to shut out all the negative energy,  focus on following my dream and keep writing good music for my lovely fans!
What's been keeping you motivated?
Mabes: Listening to all of the music I have to come next!!!! And being around my creative friends.
What's your best piece of advice for young women?
Mabes: Don't worry too much about the future. As long as you're doing your very best at everything you do, the rest will fall into place as it's meant to.
What else do you have in store for this year?
Mabes: I might have a couple of Christmas songs coming out….!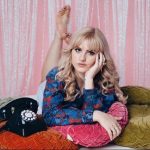 Emily Treadgold