Malibu Babie has quickly become one of the most influential producers in hip-hop right now. She produced two of the biggest hits this year, "Super Freaky Girl" by Nicki Minaj and "Her" by Megan Thee Stallion, but she's not stopping there. Her mixtape Malibu Babie SZN: Vol 1 is the perfect showcase of her bubblegum personality and slick beats that define her unique sound. We talked to her about staying true to herself, her incredible journey to where she is now, and dealing with imposter syndrome.
How did you get started in music?
Malibu Babie: I grew up in Olympia, Washington. And both of my parents were construction workers, so there's a huge emphasis on go to college, use your brain, do something academic. I ended up getting a full ride to Vanderbilt, but I'm doing all of this thinking, okay, I'm going to go to law school, and I'm going to go be a politician. That was all of my focus, and I was very studious. In my senior year, I took a songwriting class for fun. I had no idea how it worked, and I played a song for the class, and the professor happened to be a signed songwriter that worked at this company in Nashville. And she pulled me aside and was like, "Hey. You have the gift. You owe it to yourself to pursue this."
I started interning at this really tiny music publishing company, and I was a front desk girl. I would sneak into the studios and just hang out with the creatives. And I realized, oh, my God, this gives me the feeling, the whole purpose feeling. I was like, "Okay. I think I'm supposed to do this. I'm actually really good at it. I already know how to do stuff." One of the songwriters would let me use his production gear. I just fell in love with it. I started waiting tables at this really bougie restaurant, getting tips, and then in the day, I would just dedicate myself to the craft. I was very delusional. And it worked in my favor.
Tell me about your new mixtape! How did it come together?
Malibu Babie: Every song on the mixtape kind of represents a different influence of like-- For me, it was really, "This mixtape is my origin story of introducing all of the flavors of me to the world." But I made it all with the same three people. Honestly, we did all of the songs in probably, a span of three-four days, start to finish. It was very quick, and then all of the interludes on it were just things that came to me that I thought would be fun. So that's how it came together. I'm so excited that it's out in the world.
I read that you are the first and only woman this century to debut at number one on Billboard's Hot R&B? That's insane. How does that feel for you?
Malibu Babie: I literally could cry thinking about it. Just the journey, all the stuff people don't see. I'm just so happy. It's been my dream since I was a kid. I think that's why I was drawn towards being a politician because I just wanted to leave some sort of mark on the world that makes things feel more possible and accessible. I'll always be able to leave a legacy of my family just if I never do anything else again. At least I trail-blazed a little bit in this century. Simply for women in hip-hop. And so it honestly feels like such an honor, and it makes me feel very motivated.
I feel like it's so challenging to be in production and then also to be in hip-hop as a woman. Those are both such male-dominated spaces.
Malibu Babie: I was talking with a girlfriend the other day even about it is definitely a struggle with being feminine. Obviously, I am with men all the time, and I fit in now. I used to always wear my hair in a bun. I used to never really wear pink and just kind of toned it down and wore sweats and baggy clothes. And I wasn't really feeling like myself. So one day, I was like, "You know what? I'm going to wear heels. I'll wear my pink suede heels to the studio." And I started doing better work! So I think that's a challenge is learning how to bring that feminine flow and energy and magic in those male spaces. But honestly, I will say that the hip-hop space for me has been so accepting and so supportive.
So interesting that you playing into it has been what's helpful
Malibu Babie: At the end of the day-- at the end of the day, talent is going to be the thing that really speaks to it, you know what I mean? I always tell that to my females who are young and getting into production. Not to stress them out, but if you can show up and knock it out of the park, you'll be good, but I will say I think it's easier for a guy to maybe perform mediocrely. If I do that, then those men are going to have the impression that girls suck. Whereas if a guy does bad, there are so many of them, it's like just that guy was bad. But I feel more like as a female; I do feel the weight of it's reflective of my gender.
Do you ever deal with imposter syndrome?
Malibu Babie: I'll tell you what, the funniest thing happened. I think I've had more imposter syndrome since getting a hit song. It feels amazing on the one hand, and opportunities are coming like crazy, and that's really cool. But there's the other part of you that does go, "Oh, my God, like, can I do this again at this level?" Which is why I was glad to have "Super Freaky Girl" and "Her" both. I was like, "Well, I'm automatically not a one-hit-wonder." I don't think I am. But I've always had imposter syndrome. And honestly, the only thing that makes me feel better is literally knocking something out of the park. It's such a big dream that I think it's been taking my brain time to catch up to it. Now it feels more real. When it first happened, it was something I would journal about and dream about, like, did I jump timelines? What reality am I in? Now I'm starting to feel like I can really embody it more. So the syndrome's fading, luckily.
I guess my last thing would be, what would be your best piece of advice to young women who want to be producers?
Malibu Babie: I think that you just really take the time to be great at your craft. And I think if you want to do it, find a mentor that's going to expedite your growth. I think I got significantly better when I really opened myself up to learn from people who are better for me. Always try to be the worst person in the room. I never want to be the best person in the room, and when you start approaching my life like that, you have to go into it with a certain confidence that you're good at what you do. For any woman who's getting into production, I think we have to really show up and kill it. There are all sorts of minute things that we're running at any given time. If you slip up, it's all good. Be confident, and just know that all the boys are doing that too. Women tend to over-apologize, so just be a bad bitch, be confident, and know that you're the shit. But also come and do the work so that you're fucking good when you're there.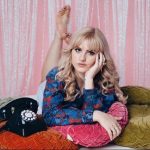 Emily Treadgold