Imagine this: It's May 2020. While sitting in quarantine, you're blasting the latest from Matty Noyes: her single "Man Needs a Woman". If you're missing part of that picture then it's time to pop onto your favorite streaming service and crank up the volume on this new bop.
Maty Noyes proves with this song that she is the next-big-rising-star to keep your eyes on as we move into the summer months. Not only does her sound radiate that summer vibe and groove, it also expresses her warmth. She radiates honesty in her music, but also we had a chance to chat with her about her upcoming work, her inspiration, and messages in her music, revealing that Maty truly is the honesty in music we need right now
Catch up on what she had to say:
You've commented before about growing up in a small town. Has that influenced your music at all? If so, in what ways?
Maty: Being from a small town is something I try to carry with me everywhere I go. There are certain values you learn coming from a community like that and as far as music goes it's nice being a big fish in a small pond because I didn't have many distractions. Growing up there wasn't really anyone I could compare myself to which allowed my song writing to just be whatever raw emotions I was feeling at the time. I wasn't pressured to try and be like anyone else.
In what ways does your older music contrast to the new?         
Maty: When I started out, I did more singer-songwriter soulful stuff. When I got to Los Angeles, I was really swept up in the pop world for awhile. My new album is an evolution of those two sides of me. It's every emotion under the sun with sounds for everyone.
What is your writing process like?
Maty: My process is different every time depending on who I work with, but with the same goal in mind: to get out whatever I'm going through that week so I can move on. My life has always been pretty random and spontaneous so it leads to nonstop stories, good or bad. I always have lived by the rule to "say yes to everything…" up to a certain point. I'm a little different now though, I don't keep a lot of people in my close circle but I still love to go out and experience life.
What was the inspiration behind "Man Needs a Woman"?
Maty: "Man Needs a Woman" is a goodbye song to someone I thought was my forever, but only ended up as a phase in master disguise. The song is me accepting that this true love is officially over because I now know that's not what love is.
How would you describe your own music to someone who's never heard it?
Maty: Imagine if Marilyn Monroe was a modern-day Mississippi hippie with a dream that created music.
What's it like being so young in the music industry?
Maty: You really have to have thick skin. People can be brutal with their opinions but I also think it's good because you get to learn fast and the truth sooner. The truth is nothing to be afraid of, it's good to know things and failure is a huge part of that.
What's been your biggest challenge in music thus far and how have you overcome it?
Maty: I think in the beginning I crossed a lot of lines of compromising my vision to "get there faster" when all it really ended up doing was making me take the long way around. Throughout the journey I've gained character and I'm a lot lower key now which is nice.
What advice would you give to other young women that want to do what you are doing?
Maty: Don't take things personally. The way people treat you is a reflection of themselves and what they have got going on. Be kind and genuine and yourself, always stand up for yourself in a respectful way and be a boss ass bitch. There's nothing you can't learn if you actually take the time to dedicate yourself and try. Start with an hour a day and let yourself prove to YOU that you can be loyal to something. It's a good feeling and it's right there inside you waiting to be woken up. Also, no one is actually going to do shit for you. You've gotta make things happen for yourself!
Is there a moment where you knew you wanted to pursue music? Was there ever another option?
Maty: I always used to say I wanted to be a rockstar when I grew up and everyone would laugh at me. It was true and it's still true. Making music has always been the only option for me, but if I have to do something else I would be a scuba diver.
What are you ultimately hoping to communicate through your music? What message do you hope comes across to fans?
Maty: Forgiveness, honesty, acceptance and peace and love.
Where do you see yourself and your music in the next 5 years? What are your biggest bucket list items?
Maty: I want to do it all. I love creating, from music to fashion to acting. I would love to work with more amazing artists and producers that I am able to find that magical chemistry with. I would love to do a tour where I can stop in every city for at least three days and truly explore it and take it in fully.
Are you working on anything new during this quarantine time?
Maty: I've been working on so much. I'm currently working on learning to track my own vocals, getting back into playing the guitar like I used to, writing my dream treatments, playing around with new recipes and more. I even tried to learn TikTok by becoming a cabbage for a day.
Is there anything else you want our readers to know?
Maty: I love you.
From inspiring vocals to a sense of sunshine and warmth in her music, Maty Noyes is who you need to be tuning into right now. Her small town upbringings provide a sense of clarity to her story and her honesty about navigating the music industry and keeping her integrity can speak volumes to the world we live in today.
<p class="p2">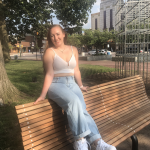 Alex West
I have a split in fangirl tastes. On the one hand, the moment One Direction announces a reunion tour, I will empty my bank account to go. On the other, I'm mourning the loss of Warped Tour. Recently, though, life for me has been all about traveling, watching shows, and writing. It only seems natural that I would find my way to the tour life since my mom raised me on Rick Springfield and NKOTBSB.I'm a big believer in fangirls and the influence we have in the world. As a political science major, I try to find that slant of empowerment in everything I do and know that music can change the world.