We've been fans of Micky James for a while and it was so nice to catch up with him and talk about his new EP, which he perfectly describes as a part record for loners. Micky James has this unforgettable energy in his music that we just can't get enough of. We talked to him about the new EP and what's been inspiring him lately.
What is the takeaway you want your fans to get from this EP?
Micky James: I wanted to make a body of work that felt like a party record for the loners, the ones that may feel less represented. What I'm hoping fans take away from this collection of songs is that it's okay to feel misunderstood and to accept that it's okay to feel alone.
What song are you most excited to play live?
Micky James: "James Brown" is my favorite out of the new bunch to play live. It's a lot of fun to perform and It feels like the audience has been super receptive to that track as well.
What has been inspiring you lately?
Micky James: Putting out this EP has felt pretty inspiring to me. The day after I put it out I felt this overwhelming feeling of inspiration and creativity. I dove right back into writing more songs. The reaction has been so great so far that it just makes me want to create even better material and challenge myself even more. I'm curious to see where this project will take me next.
What has been one of the biggest challenges in your career so far?
Micky James: I think one of the biggest challenges I face as an artist is cutting through the noise with art that feels unique and that is honest. There is a lot of amazing new music out there and a lot of that amazing music is having trouble moving the needle because of the vast amounts of  content and music that we consume.
How do you stay motivated?
Micky James: It might sound sort of cliche but I think music has always been my biggest motivation and it continues to inspire me as an artist. Like I said, there is so much great new music out there that it pushes me to want to grow and evolve and challenge myself even more as a songwriter.
What's next for you? 
Micky James: I'm always writing and thinking about the evolution of this project. I'm hoping to have new music out by the top of 2024 and work towards a debut album.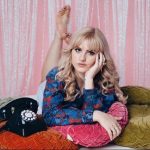 Emily Treadgold