Annabel Gutherz has a knack for storytelling and it bleeds through her music. Her new song "Mountain Man" has effortless melodies and poetic songwriting, and her sweet vocals are the perfect addition. With Stevie Nicks vibes, and leading with her writing, Annabel is definitely an artist to keep on your radar. We talked to her about the new song,
Hello hello, Annabel! Tell me how you got started in music?
Annabel: Hello, hello! I got started in music when I was five years old. I auditioned for a small, local theatre company and had the opportunity to perform in "Annie – The Musical." Performing and singing on stage felt like home – I've been in shows ever since! Curious about the many other facets of music beyond musical theatre, I elected to play alto saxophone in band class in high school. It was around that same time that I began melodizing my journal entries and writing songs, which only furthered my love of the art. The culmination of these musical interests propelled me to enroll at Berklee College of Music, where I am presently in my final semester of earning my Bachelor's Degree in Interdisciplinary Music Studies! 
Tell me about your new song "Mountain Man" what's the story behind it?
Annabel: "Mountain Man" is a simple song about my cousin and her then ex-boyfriend. They had dated for a number of years, and when they broke up, I was shocked as I had thought they were the perfect couple! In an attempt to encapsulate the magic of their love and pay homage to their story as I knew it, I turned to song.
I love the video. What was the concept? 
Annabel: Thank you so much! The concept spawned from the title of the song, "Mountain Man." In keeping with the lyrics, the video is simple and follows a young couple as they embark on a road trip and share many special moments together!
What has been inspiring/keeping you motivated lately?
Annabel: I think my intrinsic desire to connect with and help people during this difficult time has been keeping me motivated. Even more, I have drawn much inspiration in the new music I've been writing from the heroism and courage people have demonstrated during this tumultuous season… but more on that another time! 😉 I look forward to sharing my music and continuing to write meaningful stories that will hopefully resonate with listeners!
What has been one of the biggest challenges for you in the music industry?
Annabel: As a new artist, one of the biggest challenges I have faced in the music industry thus far has been trying to supplement my music with corresponding visual content (i.e. music videos, live performances, and so forth). Due to the pandemic, it's been difficult realizing all of my creative plans, but our collective health and safety is, of course, paramount! 
What is your best piece of advice for young women? 
Annabel: Goodness… It is so difficult to pick just one/best piece of advice! My first would be to urge young women to be their unique selves. As Maya Angelou once said, "If you're always trying to be normal, you will never know how amazing you can be." If I could give a second piece of advice (I can't resist!), it would be to urge young women to trust their intuition. The small voice that is too often dampened by cacophonous words of insecurity, doubt, anxiety and pressure, is actually one of our superpowers. We must heed this inner voice, and have the courage to follow our instincts!
Thank you so much for having me! I am filled with gratitude!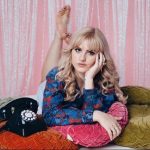 Emily Treadgold