Eda Green's new song "I Hate Me Too" immediately hit me. The song is a haunting look at your own demons and insecurities. At the end of the day, you can never escape yourself, and confronting that is one of the biggest challenges we can face. We talked to the up-and-coming artist about the meaning behind the song and being unapologetic about who you are.

Eda! How did you get started in music?

Eda: I've always written songs because it's an outlet, kind of like a form of therapy for me. When I was 13, I got to have my first day in a studio which really jumpstarted everything.

Tell me about the meaning behind you song "I Hate Me Too" 

Eda:

"I Hate Me Too" is about not knowing if it's your insecurities controlling your thoughts or if that's the reality. In a way, I feel like this song is about coming to terms with the fact that both might be true.

What was the inspiration for the video?

Eda: My producer Chris Rosa, the director Ra Dreyfus, and I brainstormed for awhile about where we wanted to go with this video but ultimately decided to make it exactly what the song is; a battle with yourself. 

That's so weird that you grew up in an apartment filled with vine stars! What was that like?

 

Eda: I actually only lived there for about a year but it was definitely a weird experience and definitely not my scene. 

What has been the biggest challenge for you in the music industry? 

 

Eda: Thankfully, I don't feel like I've encountered too many major challenges except the doubt that I sometimes place on myself. 

What's your best piece of advice for young women?

 

Eda: Be unapologetic when it comes to what you want to do with your life.

Follow Eda on Twitter, Instagram, and Spotify to stay tuned.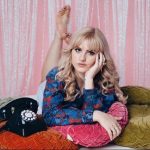 Emily Treadgold