Skott's latest release, her highly anticipated sophomore album "Roses N Guns" is just as, if not more, captivating than her previous releases.  The Swedish singer/songwriter has been making huge waves in the industry. We were lucky enough to interview Skott and learn a bit more about the writing process and inspiration behind her acclaimed album, "Roses N Guns", her journey into the music industry, and more about what she has in store for us in the future.
You've experienced quite a bit of change throughout your life. How did your desire to pursue music first come to be? And what has your musical journey looked like over the years to get to where you are today? 
Skott: The village I grew up in is literally around a thousand people and so many there play the violin, so I definitely have roots in that instrument but also got a piano as soon as the chance came up. After loving video game soundtracks, I was inspired to download a tracker program and start producing my own tunes, and it's still one of my dreams to compose video game music. One thing led to another and, while finishing music school, I was signed to a record label as an artist instead of a songwriter as I originally planned. It developed from there. It's a blessing to be where I am today and get to work with what I love.
You've found your niche/success in the alt-pop genre. Can you tell us a bit about how you cultivated your current sound? And who are some of your own personal inspirations/references within the pop sphere?
Skott: I can't deny that it's influenced by soundtracks I listened to when I was younger, like Castlevania, Legend of Zelda, Final Fantasy, and other amazing games. There's also a bit of Muse and alt-pop-ish influences from when I was a teenager, so some of my sound probably comes from there as well. Susanne Sundfør is an incredible Norwegian songwriter and artist that I've always been drawn to as well. I don't listen to a lot of modern stuff, but those are a few that still stick in my mind.
Can you tell us a bit about the inspiration behind your second album Roses N Guns? 
Skott: It's based around a blend of themes that came from the title, which is wordplay on my name Skott in Swedish. The word means both "sprout" (the rosebud in this case) and "gunshot," which I see as representing life and death, love and heartbreak. These themes are weaved in throughout the album.
You spent a lot of the last two years writing Roses N Guns in a mountain cabin without water or electricity, which is extraordinary! How did this solitude affect your songwriting/transform you as an artist?
Skott: Long story short, I was forced out of my apartment in the city because of a fire in the building. For a whole year, I didn't have a homebase and I lived between four different spots. The main spot was in a cabin that's completely off the grid. You can drive for hours and there's not even any neighbors. I could really disconnect from "daily life" and trade it in for reconnecting with nature, and reflecting on what's really important to me.
To expand upon the last question, how has this specific songwriting experience of creating your sophomore album changed the way you will approach writing in the future?  
Skott: I'm always trying new things with my music and experimenting with sounds, which is why sometimes it's tricky to describe what genre or genres I do. But, on this album, I tried playing violin for the first time – such as on "Memory Shore" with a solo and everything. I love how it turned out, so I'll probably try that out on more songs on the future and try playing even more instruments when the song calls for it.
There must be a lot of pressure that comes with releasing a highly anticipated sophomore album. How do you handle the pressure and vulnerability that comes with releasing music to the public?
Skott: It's a real mix of excitement and anxiety, to be honest. I wouldn't have it any other way, and it just means you care about what you're putting out there, but it is an emotional process. These are ten songs, ten of my babies, and letting them go out into the world on their own, and letting go of all control, is a weird feeling for sure. But I can't wait to do it again, and again.
Can you give us a bit of insight on the process of creating your own independent label, Dollar Menu? I understand you made this decision in order to preserve your unique creative vision - which is amazing and a decision I'm sure many artists are largely inspired by!  
Skott: Yes! I decided to start my own label with my creative partner Paras IV, who's been with me from the very start. It just made sense. We were doing so much (and eventually all) of the creative and behind the scenes work ourselves already, so leaving Sony and the major label world was a natural step for my artistry to grow in the direction I wanted it to. More creative control, more freedom. Dollar Menu is a super independent label and we invest in and release only what we believe in and enjoy working with. It's a very hands-on approach with a lot of hard work, but I'm happy to put the work in.
Lastly, can you tell us about any exciting upcoming releases, performances, projects, etc.?
Skott: I'm excited to put together my new live show experience and make it more engaging than ever, so keep an eye out for that. I've also started a Patreon with super exclusive perks, so if you want to connect with me directly, come say hi there! I can't say much about it yet, but some of my music's supposed to be in a Hollywood production soon for the first time, so I'm excited to break into the big screen music world as well. I post all the latest updates on my Instagram, so make sure to follow me there if you don't want to miss any of my new projects!
If you haven't already, then be sure to follow Skott on Instagram and Spotify to stay up-to-date with all of her upcoming projects! And make sure to stream her new album, "Roses N Guns" on all streaming platforms today.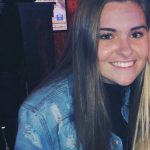 Grace Kuraska
For as long as I can remember growing up, music was constantly blasted throughout the house. My parents' love of music introduced me to pop and rock idols and icons of the past, setting me up for a life of fangirling over a confusing range of artists, from Fleetwood Mac to One Direction (still mourning the loss of the latter). I could spend hours at a time binge listening to albums, and researching new artists. Follow me on insta @gracekuraska.