Mia Madden's sound is so dreamy and ethereal it immediately struck me when I stumbled across her Tik Tok. Her whole aesthetic is laced in pastels but the lyrics have this darkness that surprises you, she isn't afraid of being honest about her experiences. We talked to her about her new music, cultivating a signature sound, and how monogamy is a weird concept.
How did you get started in music? 
Mia: It started when I went to my first big music festival in 2013 in Texas. I was only 16 at the time, and it was all so inspiring. To be at a festival is very communal. I enjoyed that mixed with seeing some of my favorite bands at the time, like Passion Pit, Electric Guest, Vampire weekend! It was the peak indie era, and I knew in my heart I wanted to be the one up on stage performing to beautiful strangers.
I feel like you're really honed in on a signature sound. Can you tell me what influences that? 
Mia: Most of my music process comes from the heart, but I do have some influences. It's always changing for me. My older stuff was inspired by instrument-based bands like Phoenix and Wild Nothing, but my newer stuff is more synth/electronic-based, so artists like CHVRCHES and Electric Youth.
Tell me about your new song "Forever Is A Long Time." What's the story behind it?
Mia: The story is about the idea of marriage but more so the idea of marriage at a young age and how detrimental that can be for a young person. The chorus goes, "Forever is a long time for just one love," meaning we shouldn't always have the expectation of forever when we are with our partner. Sometime's it's more poetic to have a deep, romantic fling and avoid dragging it on and turning it into something toxic. Trying to make it last forever is...exhausting and unrealistic, and quite boring. Falling in love is beautiful and we should do it a lot with many different people. Each love is vastly different.
I love trashing the idea of marriage and monogamy! Is there a reason you wanted to center the song around that subject?
Mia: Yeah, I've just been in so many relationships with the idea of marriage as the end game and never ends up becoming that, thank god. That expectation, though, really isn't realistic, and if we can just stop making that the forefront of the conversation of people's life plans, I think we would be a lot happier. At the end of the day, marriage is very much a social construct, and in my personal life, it's a bit oppressive. I've recently found a love for open relationships and polyamory. I'm still dabbling, but It's a new look at life, and I enjoy learning about it. 
What has been the biggest challenge for you in your career?
Mia: For people to actually listen to my music. I'm slowly getting to where I want to be, but that is the most important thing for anyone's success in music and, coincidentally, the hardest to achieve. If you have ears and eyes listening to your music and supporting your art, that's all that matters. Many other people are doing this right now, so it can be overwhelming trying to get people's attention, but I'm hoping if I can keep at it for another couple of years, I'll get to my goal. 
How have you been staying motivated to create over the past year?
Mia: Being organized helps a ton. I've been setting up my schedule in such detail I even plan when to write out scripts for my TikToks. Being an independent artist, you end up having to do EVERYTHING. You are your own manager, social media team, promoter, PR agent, and that's not even adding in the time it takes to actually write music. 
What's your best advice to young women?
Mia: Some advice I got a while back is do not compare yourself to other people. I apply this with my music and other artists. To be comparative ends up turning into self-hatred. There will always be someone better than you, and everyone has a different life experience, better connections, etc. Focus on your main goal, and remember success is not linear!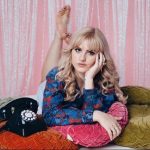 Emily Treadgold