That Brunette's quirky, sparkling pop is instantly addicting and her new song "Secret Crush" is a lush, vibrant track that embodies that feeling of a new crush so well. We talked to the up-and-coming artist about the new song, Taylor Swift, and being a triple Gemini!!!
How did you get started in music? 
That Brunette: I wrote my first song when I was eight years old in a spiral notebook with a dolphin on the cover. I sang it for my classmates who's reactions were a combination of confusion and excitement. I'm not sure what inspired me to write a song so young. Perhaps I heard Hilary Duff's iconic bop "I Can't Wait" on the Disney Channel and thought, "I can do that!" In any case, I started filling that dolphin notebook to the brim with songs, and performing them for my peers at recess. I became addicted to the inimitable feeling of having written a brand new song. I'm still addicted to it now. I played the first song I wrote with a piano accompaniment at my elementary school talent show in front of the entire school. The feeling of sharing something I had created all on my own, along with the positive response I got from the audience was enough for me to decide to devote my whole life to music.
Tell me about your song "Secret Crush" what's the story behind it?
That Brunette: This song is about the girl who unknowingly reached deep down into my soul and pulled out the bisexuality that had been hiding there for years. It's about a crush. A crushing crush that crushes you but also lights you up for a hot second, and in that second you're in a kaleidoscope of iridescent sparkling lights shaped like hearts and all you want to do is stay there forever, but just as soon as you think that thought to yourself, and begin to formulate your plan of how to stay in this shiny bubble of beauty and potential, it pops.
Congrats on owning your sexuality! Does that feel amazing?
That Brunette: It feels a hell of a lot better than stifling it that's for sure!
I'm floored that you're a triple Gemini! What's your favorite Gemini trait? 
That Brunette: I know it's quite shocking! There are a lot of gemini qualities I appreciate such as our adaptability, social skills, and our way with words. But I think my favorite has to be our knack for bringing people together. Gemini's favorite place to be is surrounded by people they love, so we take it upon ourselves to create those situations. I can't wait till the pandemic is over so I can wrangle all my friends and take them to a drag bar again.
What has been one of the biggest challenges for you in the music industry?
That Brunette: I think an easier question to answer would be what hasn't been a challenge for me in the music industry! There are so many barriers for independent artists when it comes to breaking through to mainstream success; over-saturation, ageism, misogyny, etc. I think my biggest challenge has been not giving up on myself and continuing to make music that I love despite the empire state-building-sized odds that are stacked against me. I've learned over time to adhere to my own definition of success rather than society's. To me, success is inner joy. I would much rather strive for that than a big social media following.
How have you been staying motivated during the pandemic?
That Brunette: To be honest, I haven't stayed motivated throughout the entire pandemic. Like most people, I go through ups and downs of energy and motivation. Inspiration comes and goes. What I have done is gained a stronger curiosity about myself and my purpose in life. I've taken time and space to daydream and gaze into my future to figure out what step I should take next. By slowing down and smelling the roses I've gained more insight into my soul than any other time in my life.
What's your fav Taylor Swift era? 
That Brunette: Favorite question ever. How can one choose?? I love them all so much! I'm going to have to go with Reputation. It was the reinvigoration of my switiehood and the first era I saw her in concert. I live for badass T Swift energy and there are so many classic bops on that album like Delicate, I Did Something Bad, Gorgeous, and maybe my all-time favorite Dancing With Our Hands Tied, or as swifties lovingly call it, DWOHT. Also Karyn the snake. So good.
What's your best piece of advice for young women? 
That Brunette: Everything you need is within you. Listen to and trust your inner voice and intuition. I know at times you may feel like you're not enough when it comes to your love life, career, or friendships, but I promise you are. You don't need to have it all figured out by the time you're 22. Take your time because shortcuts more often than not are too good to be true. Go where the love is and be your own best friend.
Follow That Brunette on Instagram and Spotify to stay tuned.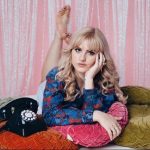 Emily Treadgold