Olivia Lunny is definitely an artist to keep your eye on. Each of her new songs shows a different facet to her unique sound. She has the sweetest voice and a knack for catchy choruses. We talk to her about reality shows, the challenges she's faced, and what's coming next.
Olivia! How did you get started in music?
Olivia: Growing up music was always around me! My parents would always play music on the way to school in the car, when they were cooking dinner and everywhere in between. I feel like music is really ingrained in who I am as a person so that's why pursuing a career in music feels so necessary! I wrote my first song on guitar around the age of 12, shortly after I began playing at local coffee shops. One thing led to another, I stayed persistent, wrote tons of songs, and now I'm here navigating the crazy/exciting waters of the music industry as an artist. 
Tell me about being on The Launch, how did that help your career?
Olivia: Being on The Launch really tested and challenged me both as a person and artist. My biggest take away from my experience on the show was realizing the importance of staying authentic to yourself even when others may suggest otherwise!
What was the creative process behind "Hold Me"? 
Olivia: "Hold Me" came to life very naturally when I revisited playing the piano after a few months. This song came shortly after ending a relationship. It's about the longing to be close to somebody and the frustration that comes with giving love/energy and not having those feelings reciprocated. 
"Hold Me" is your third release this year, how is it different from your previous singles? 
Olivia: I think the idea of crossing genres has always been very intriguing to me. I started as a folk singer/songwriter and I'm constantly writing in a way that fits both folk & pop. "Hold Me" fuses together these different sounds. I originally wrote it as an acoustic ballad and it's been really fun to have it evolve into an up-tempo pop song!
What has been the biggest challenge for you in music?
Olivia: When I first started writing I found it intimidating to dive deep into explaining what a song was written about. Since then, I've learned that being vulnerable and honest with my songs can translate into connecting with others. I find that so beautiful. 
What else has been inspiring you lately? 
Olivia: I've recently started writing a lot more on piano. I find that starting songs and ideas on different instruments affect the feel of the song, so writing on the piano has been inspiring me to make some different sounding music! 
What's your best piece of advice for young women?
Olivia: The most exciting things happen when you're being authentic to yourself. Patience and trust in yourself is also so important. Everything worth having takes time. 
What else can we expect from you moving forward? 
Olivia: A project to be released at the end of August! I'm really excited to share what I've been working on. This project tells a story and the songs are cohesive with the theme throughout. I love how every song is different from one another and I've gotten to showcase the different flavours of my music!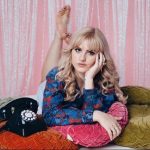 Emily Treadgold