I feel like I have a knack for predicting the next big thing, and I know YDE is absolutely it. She's absolutely fearless with her music. Her new song "Blindlife" is the perfect sum-up of the mess that was 2020. Her attitude bleeds through this song, the bass perfectly accenting the shimmering melodies. You can hear sirens in the background to emphasize the apocalyptic nature of the song. We talked to her about the new song, the inspo for her video, and how she's been keeping motivated.
How did you get started in music?
YDE: Growing up, I was always shockingly shy and music was really my only way of "escape" in a sense from my lack of wanting to communicate with other human beings. At age six, when I discovered I could actually pursue music as a career after seeing Lady Gaga in concert, I decided that I was going to pursue it properly.
Tell me about your song "BlindLife" what's the story behind it?
YDE: I wrote "BlindLife" in a session with Justin Tranter, and Mattman and Robin. It was such a bizarre time to be writing a song because you'd take a step outside the studio and you were immediately bombarded with smoke that was engulfing Los Angeles from the fires that year. It felt so wrong for us to be writing a song, like we were just turning a blind eye to the devastation happening, literally right outside our door. But we realized we weren't the only ones that felt like this. All of Los Angeles was business as usual. Of course, unless you were evacuating. So we wrote a song about this whole experience of just turning a blind eye to life outside, both metaphorically and quite literally.
The music video is so cool, what was the inspiration?
YDE: I'm so obsessed with the 70's and 80's right now so we pursued this dreamscape, chaotic world that was depicted in videos like "Sledgehammer" by Peter Gabriel and "Leave Me Alone" by Michael Jackson, but with very dark, dystopian elements that "BlindLife" calls for.
What's your creative process like?
YDE: I'm honestly not sure I could vividly lay out my creative process. It's really case by case. Sometimes I'll be walking down the street and I'll see some crazy mural or some quotes on a wall and that catalyzes heaps of different musical or lyrical ideas. Or I'll be having a conversation with someone and they'll say something that calls for being a home for a song, then I rush over to my phone and manically write it out haha.
How have you been staying motivated lately?
YDE: Last year really fluctuated for me. I had a lot of moments where I was hyper-motivated which was very quickly balanced out with a lot of time where I was not motivated whatsoever. I really just focus on listening to my body and knowing when I need to take a step back, or when I need to realign my focus. What really motivates me the most right now is my curiosity. I think we all have an innate desire to understand everything around us or push the boundaries of conventional thinking and see beyond the norm. That's what really motivates me right now.
What has been inspiring you?
YDE: The world. I am so inspired by everything from the way people communicate to the way that social media is impacting the political climate of the US. I think there are so many terribly interesting events that are happening right before our eyes and I love hearing people talk about it from their perspective and better understanding my own. Through writing songs, I get to articulate my own perspective which inadvertently helps me understand it just a little bit more.
What has been one of the biggest challenges for you in the music industry?
YDE: One of the biggest challenges in the music industry for me so far is not letting my creative vision take a backseat for speed. Everyone is all about efficiency and I totally get it. But what's it all for if you aren't doing what you want to be doing, how you want to be doing it.
What's your best piece of advice to young women?
YDE: My best piece of advice to young women is, you are art. You don't have to be perfect, you don't have to strive to be anyone else or be what anyone else wants you to be, because you are fucking art.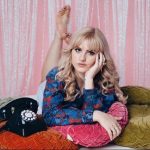 Emily Treadgold