Eliza Lee has this perfect pop sound that is so on-point right now. Her debut song "Boo" quickly garnered over 100k streams and it feels like the sky is the limit for her effortless voice and vulnerable lyrics. We talked to her about her new song "26 6'2" and what's been inspiring her lately.
How did you get started in music?
Eliza Lee: Well growing up in Sydney Australia, I always loved to write songs and I began pursuing music as a career a couple years ago. I was discovered by my old manager who introduced me to amazing producers/ artists/ writers in LA and since then I've just been working hard and developing my sound! 
Tell me about your song "26 6'2" what's the story behind it?
Eliza Lee: 26 6'2 is a mysterious RnB Pop track that I wrote about somebody I was incredibly drawn to and inspired by last year. The creative process was a new experience for me, as we finished it remotely during quarantine. I'm always inspired by real-life experiences, so this was about a guy I met in LA who I haven't seen in ages since I've been in Sydney. The song is basically me thinking "what if we had more time". We could've been something great or I could've completely built it up in my head but that's why I like it; kind of exploring the unknown. 
What has been the biggest challenge for you in the music industry?
Eliza Lee: There have been so many challenges! We all know it can be a tough industry, especially when you're first starting out; so genuinely loving what you do and being resilient is crucial. For me, finding an authentic sound for myself was a challenge, just because I was young and changing my mind so rapidly. Also being prepared to have a thick skin and deal with rejection is a challenge for anyone. Art is subjective so not everyone will like your music but that's ok! 
What's been inspiring you lately?
Eliza Lee: Everything around me. Especially with the current state of the world, I feel like emotions are extremely heightened. There is so much to write about that it's almost overwhelming! 
What's your best piece of advice to young women?
Eliza Lee: To young women, I would say stop doubting yourself, trust your gut, and pursue something you're passionate about. These are our selfish years, so make the most of them and remember that fear is a liar. That's at least what I tell myself haha
What's next for you?
Eliza Lee: A lot of writing, recording, putting out music and hopefully getting into live shows again once COVID restrictions have eased. I've been writing for several other artists this year, which I've really enjoyed, so I plan to continue that. As soon as the Australian borders open, I will 100% be traveling.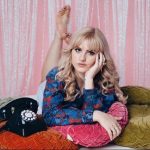 Emily Treadgold