Alicia Clara's songwriting is so authentically her, her gentle voice, the hyper-specific lyrics, all wrapped up in her dreamy melodies. It feels like she's transporting you to another universe. We talked to her about taking time with projects and taking big risks.
How did you get started in music?
Alicia Clara: I've always known I wanted to make music, but it wasn't until 2019 that I really looked into it. I didn't think it was an option. I didn't know how the music industry worked. I had graduated and was working internships and not enjoying myself. I got to the point in my life where I didn't have any strings attached and thought I had nothing to lose. I moved to Montreal, and there were a lot of bands I loved there. I reached out to someone to help me produce a track, and it snowballed from there.
Were you scared to make that jump?
Alicia Clara: I've been writing songs for about twelve years, but I didn't know if I was talented or not, and I didn't like the way I sang, but it was scary because you don't know where you stand until you put yourself out there.
What has been one of the biggest challenges for you?
Alicia Clara: To not give up. I don't think I ever will, but this year things are going well for me, so I'm trying to ride that wave. Last year was difficult. I received a grant recently, but a few weeks before, I was really annoyed at the music industry, and I was considering quitting. I don't think I would've because there's always something to save you and pull you back in. You have to not forget about your passion and keep your eye on the prize.
Where do you find inspiration lately?
Alicia Clara: The process is very subconscious, I have thousands of notes on my phone of words and sentences that sound nice together, and sometimes I put them together into bigger lyrics then I just let it happen.
Tell me about your latest EP
Alicia Clara: So I was writing my LP, and I realized it wouldn't be ready for years on end, so I selected like three songs that felt like they shared a theme. My LP is a lot about mental health which is the theme of my late 20s. This EP was more about having fun and missing having fun because I was writing during the pandemic, so they had this adolescent quality to them.
I feel like artists are shifting to taking more time with releases, why is it important for you to take that time and not feel rushed?
Alicia Clara:I feel like I did rush these two EPs a little, and I was really excited to release them, and I wanted them out now. There are things now that I would've done differently. I'll probably think that with everything I put out, but I want to minimize that. I find that sometimes your best work needs time. The first song off the LP, I wrote two and a half years ago, and it's gone through so many iterations and after playing it live, it helps me know which direction I want it to go because I've tried so many things. You need to live with the songs to truly see what they are.
How do you take care of your mental health?
Alicia Clara: I've been seeing a therapist for two years. I think just discussing things that stress you out in the industry, we all suffer from the same things. I also just try to remember to enjoy life outside the music and remember the small things are good too.
Keep up with Alicia Clara on Spotify and Instagram.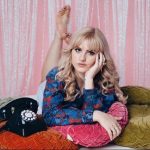 Emily Treadgold