We've been following Cali Rodi's career for a while and we're just constantly impressed by her. Her new song "SIKE" is bringing back allll of our highschool nostalgia, the pop-punk laced melodies, the visuals, it all fits together so well. We talked to her about her dream concert lineup, what's been keeping her motivated, and her new song.
Tell me about your new song "Sike" what's the story behind it?
Cali: SIKE is a 90's inspired anti-heartbreak anthem for anyone moving on from a bad breakup. I wrote the song with my friends Melissa Fuller and Scott Effman on April Fools Day over Zoom this year, and it honestly started out as a joke. Sonically, it has a "coming-of-age movie" feel, so we made a music video that visually nods to one of my favorite films, 'Reality Bites'- featuring 7-11 Big Gulps, pizza on the roof, and handheld camcorder footage.
I love how nostalgic this feels, I feel like no one uses "Sike" anymore what does that phrase mean to you/what memories does it bring up?
Cali: Thank you so much! Growing up, saying "SIKE!" was the ultimate sarcastic dig, so I thought it would be fun to incorporate that into the end of a relationship. Every guy loves to think he's all you ever think about after a breakup, so it's my tongue-in-cheek way of saying I'm completely over someone. It's everything I wish I could say to my ex. 
How did you stay motivated to create this past year?
Cali: The beginning of last year looked so promising...I had signed a new publishing deal and an artist development deal, but as all the chaos of 2020 ensued, I realized a lot of my big plans were going to change. It was a rollercoaster year of emotions, but I learned how to record my own vocals so I could keep working on music from my bedroom, FaceTimed friends constantly, and read "Untamed" by Glennon Doyle over and over again to hype myself up. There was a lot of Annie's mac and cheese comfort food involved too. 
What has been inspiring you lately?
Cali: I visited my hometown recently and had all these bittersweet/ traumatic/ sentimental memories come flooding back... which is probably why my songs have been feeling so nostalgic lately. I also just started watching GIRLS and have gotten so many song ideas from that show. 
Your punk-pop "Driver's License" got so much traction, how did that feel?
Cali: Being an artist nowadays isn't easy, and the whole world seems to revolve around Tik Tok, so it felt really validating to go "viral." More importantly, it totally opened my eyes as to what genre of music I should be making. I grew up playing electric guitar and trying to belt like Hayley Williams, so I've been having so much fun going back to my roots and leaning into that side of my artistry. SIKE is a guitar-driven song with big live drums, so I feel like the perfect bridge between my previous poppier sound and the pop-punk EP I'm currently working on (spoiler alert!). 
I love your tik toks they always remind me of songs I loved in high school, what's your dream pop-punk concert lineup?
I never got to go to Warped Tour as a kid, so I really love this question! I wish I got to see Katy Perry when she did her run on that tour because it was so DIY and iconic. My dream lineup for the main stage would definitely be blink-182 (with Tom Delonge of course), Paramore, and Fall Out Boy. Oh, and the opener would be Automatic Loveletter- that band never got the credit they deserved! 
What's your best advice for your younger self?
Cali: Guitars will always be cool.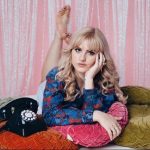 Emily Treadgold