Dark-pop singer/songwriter CXLOE has been steadily releasing bops over the past few years. Her single, "Show You," has amassed over 20 million streams on Spotify, and that's just the start. CXLOE  just released her first EP, "Heavy, Pt. 1" and it's sure to get you crying in the club.
You have been steadily releasing singles for the past few years, and you are about to release your debut EP, which is a huge accomplishment. How do you feel your career has lead you to this moment? Can you tell us a bit about your background in music?
CXLOE: I definitely feel like releasing singles over the past couple of years has really shaped me and prepared me in the best way possible to release a body of work. I'm familiar now with how a release works and I've also had the chance to dabble with different sounds and experiment with what I wanted this project to be.
Why this EP, and why now?
CXLOE: This EP has been in the works for the past couple of years. I've written so many songs and it was only now that I felt they all fit and told a similar message. This EP is so special to me as it explains my journey of coming into my own skin and understanding why I am the way I am. "Heavy" is how I've felt over the past couple of years and it was only until looking back at all the songs I had written, that I was able to see a through line and a cohesive conceptual idea that became this EP.
What was your songwriting process like for "Heavy Part 1"?
CXLOE: I worked with lots of amazing songwriters and producers on this EP, but I had one producer named Andrew Wells that executive produced the project. The songwriting process happened over the last 2 years and I wasn't exactly writing for an EP. I was just writing for therapeutic sake. But when looking back at what I had written, that was when I had noticed that I had written a body of work without even realizing it.
Where did the inspiration for your recent single, "Heavy" come from, and why did you decide to release this as the first single off of your EP?
CXLOE: The inspiration came from a few sounds I had been hearing from Allie X's album. I love how striking and strong all the sonics are in her songs, so I told the producer I was working with that I wanted to do something bold like that. I decided to release it as the last single before the EP was released as it's the title track and sums up the concept behind the whole body of work the best 🙂
You've written some great sad bops, and interpret your works as "dance-cry music," does having to indulge in these emotions for the creative process sometimes get difficult?
CXLOE: Yes, definitely. It's like a therapy session every time I get in the studio. Tapping into these emotions for art's sake can be quite exhausting and take a toll. I'd like to think, though, it's making me stronger and more confident with accepting who I am.
You have collaborated in the past with some impressive songwriters and producers. With whom are some of your dream collaborations?
CXLOE: I'd love to work with Ryan Tedder one day - he's an incredible songwriter and all-around musician. I'd also love to work with John Ryan and BANKS!
I will certainly be both dancing and crying to your EP. But, are there any other exciting projects that we can expect from you in the near future?
CXLOE: HEAVY Part 2!
We expect nothing but certified bops from CXLOE in the future, and cannot wait to see what else she accomplishes. Be sure to stream her new EP, "Heavy, Pt. 1" on Spotify follow her on Instagram to stay tuned.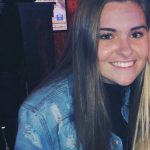 Grace Kuraska
For as long as I can remember growing up, music was constantly blasted throughout the house. My parents' love of music introduced me to pop and rock idols and icons of the past, setting me up for a life of fangirling over a confusing range of artists, from Fleetwood Mac to One Direction (still mourning the loss of the latter). I could spend hours at a time binge listening to albums, and researching new artists. Follow me on insta @gracekuraska.