When I stumbled upon Dream Wife at SXSW, I didn't know what to expect. During a day set at High Noon they managed to turn a calm afternoon into one of the most punk rock shows I saw the whole festival. They have a cult-like following and the kind of energy in their music that immediately pulls you in. I talked to them about how they're trying to bottle their live show into their upcoming album and the future of rock music.
How did Dream Wife form?
Rakel: We formed this band towards the end of our Uni experience at the University of Brighton, where we were studying. Towards the end, we thought it would be a funny idea to make a band because we wanted to visit our friends in Canada. You know those conversations are 1 am on the dance floor on a Tuesday? Me and Bella were talking about how much we wanted to visit our friends, and we thought we could just make a band and fund that trip, which is actually the opposite of what you do when you're touring. So, we messaged the best guitar player in town, Alice, and asked if A. she wanted to start a band, and B if she wanted to go on a tour around Canada.
That's the best reason to start a band. Tell me about your new song "Orbit."
Rakel: It's borderline cringe; it's definitely a rock song but also kind of harkening back to the indie sleaze era. When you're discovering music as a young teen and looking at what's out there and inspiring you, Le Tigre is a band we're really inspired by, and we're so blessed to be opening for them in London.
I feel like no one expects what they're getting into when they see a Dreamwife show; when you start creating music how
Alice: It's always been a kind of punk band, and I think this was a really exciting project because we could make it whatever we wanted it to be. I think the collision between us all is a love of playing live and the energy we have playing live.
Rakel: It is really punk to decide to put a disco beat into a screaming song; I find that quite punk just catching you off guard. We just have fun with it.
How do you feel about people saying rock is dead?
Rakel: In Europe, Maneskin is one of the biggest bands, and that came from winning Eurovision, which is known for being a little tacky but a super important cultural TV program. Now we have a rock band winning Eurovision, but I'm enjoying the debate between whether the rock is dead or being resurrected.
It's all cyclical.
Rakel: Rock is so much play and theatrics, and with them, it's so much about the theatrics behind the show and the characters they're going into. There is so much campness behind rock that I find endearing.
Alice: It's a kind of drag, really, isn't it?
Rakel: It is; rock is drag
I like that for all the super masculine dudes that are just trying to emulate drag.
Rakel: I'm happy to hear they're expressing themselves
Tell me about your upcoming album.
Alice: We entered into the process with the agenda to make an album that reflected our live show. I think it's something over the year. People come to the shows and say they wish it sounded like the live show. This time it was all about getting that raw live sound down but keeping it engaging and uplifted in terms of it being a record made in the studio.
I feel like capturing your live show is such a feat; it's such a specific feeling.
Rakel: It's impossible, but we've tried, and with this one, it's exciting, we're a four-piece unit, and for this record, Alice produced it because we really wanted it to be our sound.
Alice: We recorded this album at a converted church. The primary foundation is us playing live together, and that's what holds all of these songs together.
Rakel: We're not a band that uses playback, so this thing of being what you see is what you get, and we wanted to take that onto the album. It's three instruments and vocals, and I think there's something endearing in that. We wanted the rawness but also the joy and fun that comes from a live show.
Do you feel pressure to sound a certain way?
Alice: It feels like we're getting into who we are in our truest form. It felt right to re-establish ourselves in a real and raw way. Playing live shows showed us who we were. Coming back to that reminded us what it's all about. There wasn't ever another option for us.
Rakel: We wrote a lot of songs during the pandemic, or during the height of it, and they were really sad songs, and we didn't realize it. So much of our inspiration comes from live shows and festival season and going to gigs. We wrote like twenty songs that are just somewhere now, and I'm really happy our label didn't release them; it would've been a bummer. They didn't capture that live essence and have that joy.
What has been one of the biggest challenges for y'all in your career?
Alice: It has to be the pandemic, that was such a major shift for us. From touring the world to no live shows. Rakel went back to Iceland, we weren't even in the same country. It was a real change of gear, and not being able to tour our second album was a real sense of loss.
Rakel: I feel like every single band had that; we all felt that.
It derailed so much, and it was hard to get through it and still have a music career. It's important to push through it.
Rakel: A bunch of people in the music industry just changed their profession. It felt like a risk coming back to it, but we're happy to be in the privileged position of releasing a record, and we're just honoring that.
What's your best piece of advice for your younger selves?
Alice: I think just believe in yourself and find others that you believe in and believe in you. The way we support each other and have each other's back is why we love doing what we do.
Rakel: Work with people you can trust and be vulnerable with. You need to have a foundation of trust.
Listen to Dream Wife's new album, follow them on Spotify and Instagram to keep up.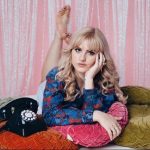 Emily Treadgold