I have NEVER been to Float Fest, such a shame. Their lineups have been getting increasinlgy better every year and despite the heat, I thought I would venture out to see what this fest was all about.
The drive from Austin to Float Fest is about an hour, and they have busses from Austin, San Antonio, and San Marcos to take you to the fest, but I decided to park. Big mistake. The parking for Float Fest was so disorganized and crazy. Our cars were corralled into a field. "IS THIS MEDIA PARKING!" I yelled at a staff member. "JUST KEEP GOING JUST KEEP GOING!" they yelled back at me. Cool, I shrugged. After sitting in a random line in a field, I looked over at the other cars, and was wondering if that was the parking lot. No, it was not, but people started tailgating because the lines weren't moving. Two hours passed and I got a call from my photographer saying he was going rogue. An hour later we found that we had a very different parking lot. So all together, 3 hours to park. Leaving was equally difficult but at least I could watch Game of Thrones during my wait.
The heat wasn't as bad as I thought it would be. Since the acts start at 2 p.m. there isn't too much sun to deal with. You do have to deal with an onslaught of bros, but honestly that would be any festival.
One thing I really really, truly appreciated was their lineup, not only for the major acts they brought in (ZEDD, Passion Pit) but for the consistent deliverance of Austin acts like Sweet Spirit, Los Coast, and Walker Lukens.
Asides from the festival you coul dalso spend the day floating down the river, riding sketchy carnival rides (my favorite thing ever) or getting super drunk.
Day 1 Highlights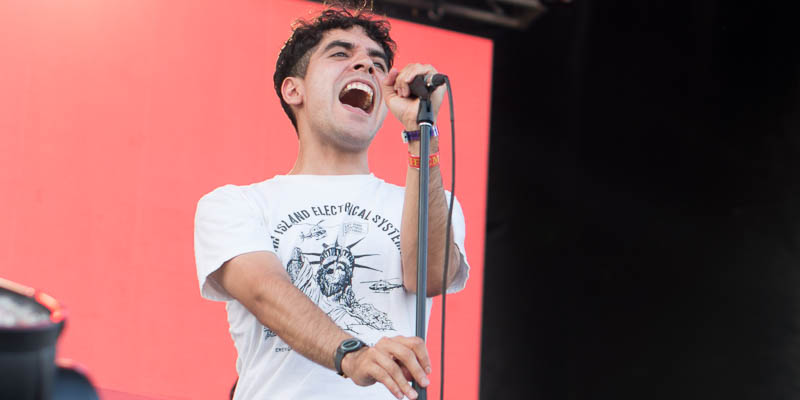 Neon Indian
Neon Indian started us off strong, their electric vibes and interstellar sounds were durable in the immense heat. They just know how to perform.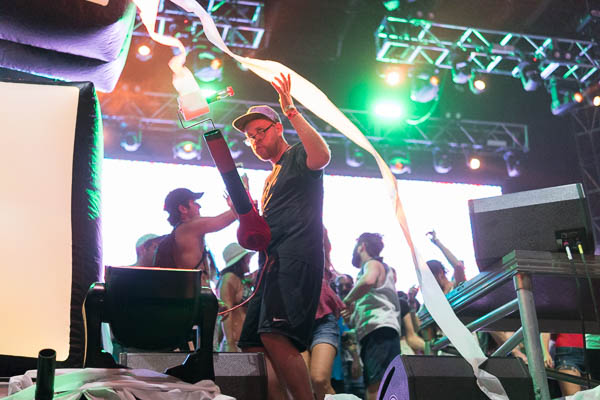 GIRL TALK
They always bring the party. Known for bringing everyone and their mom onstage, this act was a mess and a half. Everyone was covering in toilet paper and dancing, but sometimes I think they're only about performance without substance.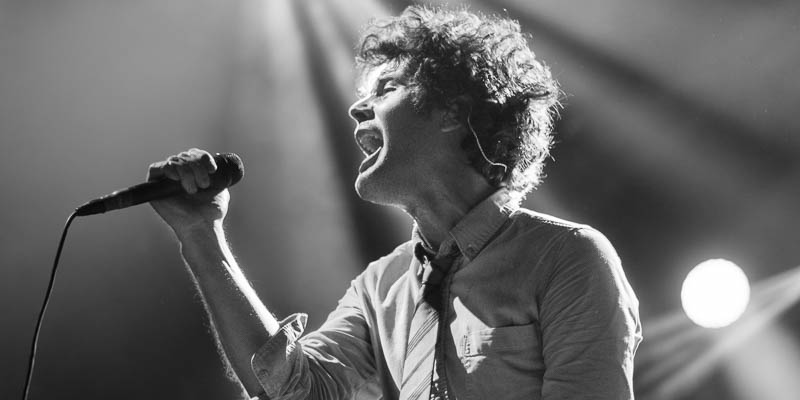 Passion Pit
I was beyond stoked to see Passion Pit, they were one of my favorite bands in high school and I love so much of their music. The crowd was so alive for them and the energy just permeated the entire festival. They played everything you wanted (unless you wanted Moth's Wings) and when they played Take A Walk and Sleepyhead we all just lost it.
Day 2 Highlights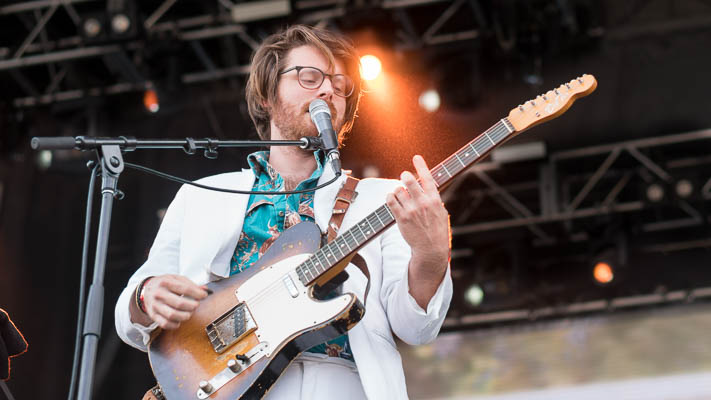 Walker Lukens
You know how we feel about Walker. I just love his music so much and the band all together looks so sleek. Walker is a phenomenal performer.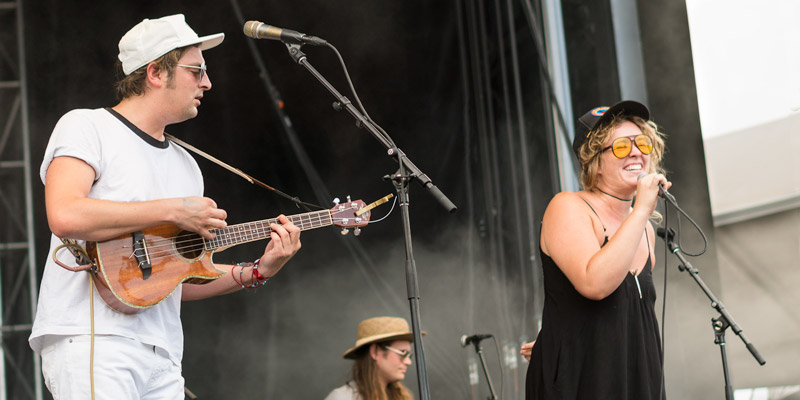 Wild Child
A staple of the Austin music scene. Wild Child has showed us how to make an Austin band a national band.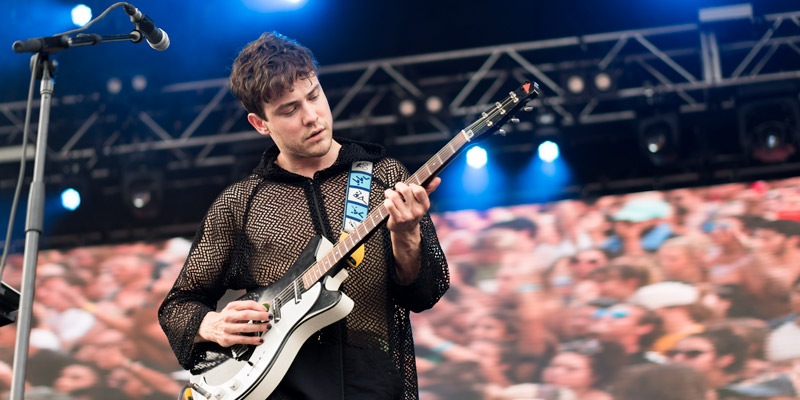 MGMT
As much as I love love LOVE MGMT's music, their live performance is relatively lackluster. They're kind of a staple at every festivals right now. "Play Electric Feel!" the drunk frat bro behind me screamed. They did.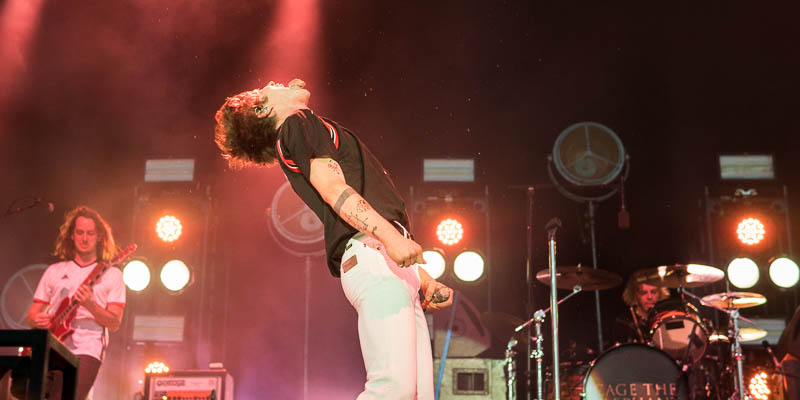 CAGE THE ELEPHANT
Sorry, I had to capitalize all of that. I got excited. No matter how many times I see Cage The Elephant I am impressed. How the hell does Matt Shultz do that every damn time. From his dance moves, to his crowd walks, there's so few entertainers that can do what he does and it wrecks my emotions. I could've ended the festival here, during Weezer's set Matt joined them on stage for "Island In The Sun".
[widgets_on_pages id=Emily-Treadgold] [adsense]
[adsense]