What happens when you get Migos, Lil Uzi Vert , Gucci Mane , Snow Tha Product and Chance the Rapper all in the span of 10 hours? You get JMBLYA. Pronounced just like the dish "jambalaya", JMBLYA is just that, an eclectic hip-hop/EDM mix of musical meat and veggies that somehow tastes so good to your ears. While I have my issues with the way that some aspects of the festival played out, overall I feel satisfied. Not as full as I should have felt after I left, but satisfied. Instead of focusing solely on the musical acts of the festival, I'm going to go through some logistics and overall feel of the show.
First things first: the venue. If you have ever travelled to Dallas and made your way to the ever-popular Fair Park, you know that the venue is huge. It is two hundred and twenty-seven acres to be exact. So imagine the discontent when the Uber drop off point is forever and a day away from the corner of the grounds that house the actual festival. Fair Park is confusing to navigate so I appreciate the signs leading my friends and I to the destination.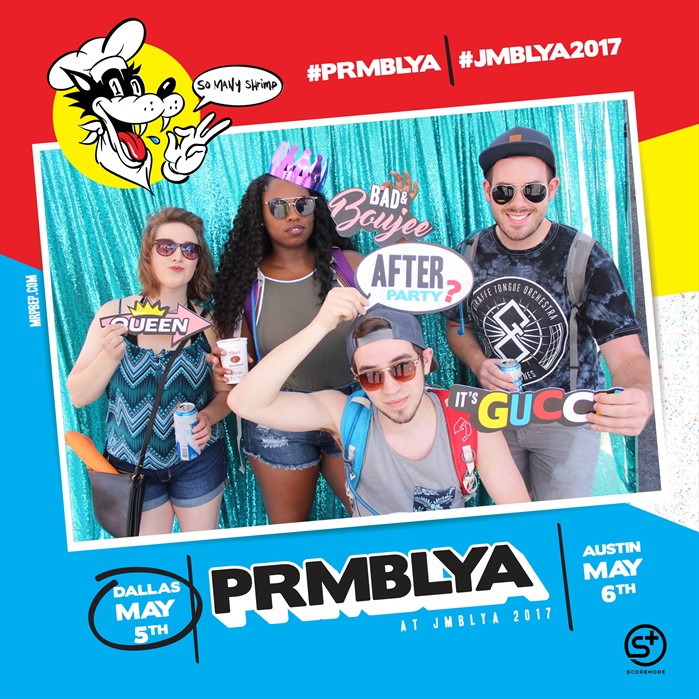 Once we got in, it was pretty smooth. So much open space, food AND things to do! Not to forget mentioning that the activities were FREE! You could take pictures, jump in a bounce house or enjoy the various water slides. JMBLYA was cool enough to think about the fact that your ticket should pay for more than just seeing the acts perform. It was an 11-hour fest with about 30 minutes downtime between sets; they needed something for people to do. This was probably the smartest and dopest things they did.
When you're in Texas and it gets above a certain temperature you need to hydrate. Thankfully, JMBLYA allowed empty CamelBaks so you could do so. What they did not provide so well was more than a handful of fill-up stations. Dallas seemed fine but I could see where it could go terribly wrong should that sunny Texas May afternoon been a real sunny Texas May afternoon of temperatures in the upper-90s and not the high 70s. Thanks to global warming, Dallas was saved on that front. Unfortunately, according to the angry Twitter posts, the next day fest in Austin wasn't so lucky. JMBLYA eventually made all of the for-sale bottled water free but only after an undisclosed amount of people got taken to the hospital due to dehydration.
Overall, the lineup was solid. It was straight fire. I will say that I am not a die-hard fan of some of the musical acts, but the crowd's energy was contagious and my friends and I were really feeling it. That energy lasted until the very last set and, sadly, it was for the Grammy winning headliner, Chance the Rapper.
I can say that his set was not what I would hoped it would be. It was riddled with problems and slight disappointments. For instance, Chance's microphone was cutting out during , what seemed like, a quarter of the show. You could tell that he was really going hard on his raps but only to silence in the audience's ears. This was coupled with the fact that one of his band members came out before the show started to let us know that Chance had injured his leg playing basketball earlier that day. Once that was said, we all kind of knew that this wasn't going to be the show that we had caught glimpses of on a stranger's Snapchat. But that was OK because it was Chance the Rapper and he was giving as much as he could.
The other component to my disappointment was the crowd. I understand that sometimes you see and artist that you are very new to because you want to experience one of their shows. You like their popular songs. You follow them on Twitter, Instagram and Snapchat. You even like their post on Facebook. I am one of those people. But we have got to do better. I'm not sure if it was the aforementioned disorder that I have mentioned before, but for the most part, the crowd was not at the standard it should have been. The energy was rather…low. Maybe these people hopped on Chance after the Grammy, maybe they weren't familiar with his discography, or just maybe they weren't into the gospel influence on his music once you got past the Billboard Hot 100s. I am not sure. But for the love of everything, he didn't suck, so everyone should have acted like they wanted to be there. There were too many people leaving his set in the middle of it. And for those of you that bounced out once he left the stage because you thought it was over, rookie mistake. It's called an encore.
Overall, I would definitely go back to JMBLYA. However, I might swing for VIP next year because they had a private bar and once you got into the evening the lines were a little long. I like what JMBLYA is trying to provide, a one-day festival that showcases up-and-coming and popular hip-hop/EDM artist and turns it into a fun party complete with games and snacks. Other festivals should really take notice. There were hiccups and misfortunes but that is OK. It could have been better, but this ain't no Fyre Fest.
[widgets_on_pages id=Holland-Behn] [adsense]
[adsense]